President Obama hopped on the mic in the East Room last night where he sang "Sweet Home Chicago" with B.B. King and Mick Jagger during a White House Blues concert. See the video inside....
Last night, Mick Jagger passed the mic to President Barack Obama during a White House Blues concert and Mr. Obama belted out "Sweet Home Chicago."  And since the President's first singing debut was such a hit, why not?
The event was a part of the White House's Black History Month celebration.
Mr. Obama was first encouraged to join in by Buddy Guy who said he's heard the president sing part of an Al Green tune recently.  He told him, "You gotta keep it up."
Speaking about the concert, President Obama said,
"This music speaks to something universal.  No one goes through life without both joy and pain, triumph and sorrow. The blues gets all of that, sometimes with just one lyric or one note. "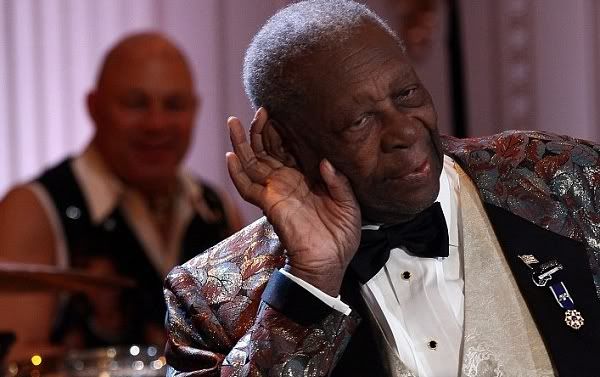 Besides Buddy Guy, B.B. King (shown above) and Mick Jagger, others performers were Troy "Trombone Shorty" Andrews and Gary Clark Jr.  Taraji P. Henson was the program host and Booker T. Jones served as music director and band leader.
The blues concert will be part of the "In Performance at the White House" series and airs on PBS on Feb 27. 
Check the video.