Singer/Songwriter/Producer Ester Dean created another dance track and this time put Nicki Minaj on the verses for the second time.  Check out their "Gimmie Money" collabo inside...
24-year-old Oklahoma native Ester Dean is teaming up with Nicki Minaj again after she created her hit "Super Bass" track.  On the Caribbean laced "Gimmie Money," the twosome is letting fellas know they can provide for themselves, so they'd rather have their time than their money. 
Ester is strongly considering releasing the track as an official single, based off her tweet asking fans to get #GimmieMoney trending if they want it as a single.  Check the track below: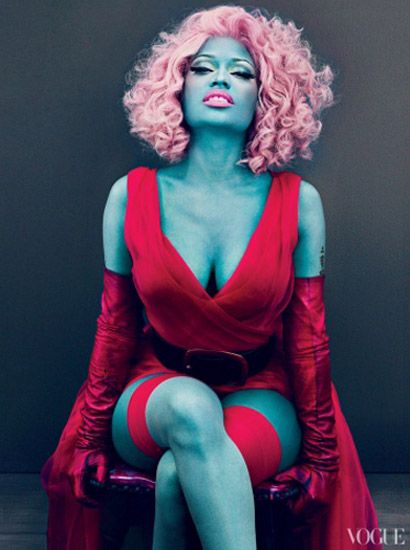 In her new VOGUE feature, which appears in the upcoming March issue focused on "showing her true colors," she admits to previously spending $50,000 a month on designer shoes and bags.
"Giuseppe, Versace, YSL, and Fendi shoes," she reveals. "I bought tons of Vuitton bags. When you're a young girl from Queens, you're going to stock up on those bags."
She also spoke about how she wants to influence young girls properly. "The Nicki Minaj girl is a fun, artsy girl who can become a fierce force to be reckoned with on Wall Street!" she explains. "They hang on my every word, so I tell them, go to school, be ambitious. The worst position is to be financially dependent on the man."
Nicki's blue-skinned shoot was shot by famed photographer Steven Klein.