Ciara posted footage from her Grammy rehearsals.  Watch the tape inside and see one SUPER FAN's tattoo of Lebron James' face!
Ciara teamed with DEGREE and their "Do More" campaign for a newly released video of her Grammy rehearsals.  In the video, we watch Cici prepare for her upcoming Grammy After party performance and hear her drop gems of wisdom about hardwork and determination.
SIDEBAR:  We noticed that the camera rarely showed Ciara's mid-section.  And we've been saying we already have the newly-engaged "Body Party" singer on preggers watch. 
Ciara's Grammy Celebration After party performance will take place on Sunday, January 26.
In sports....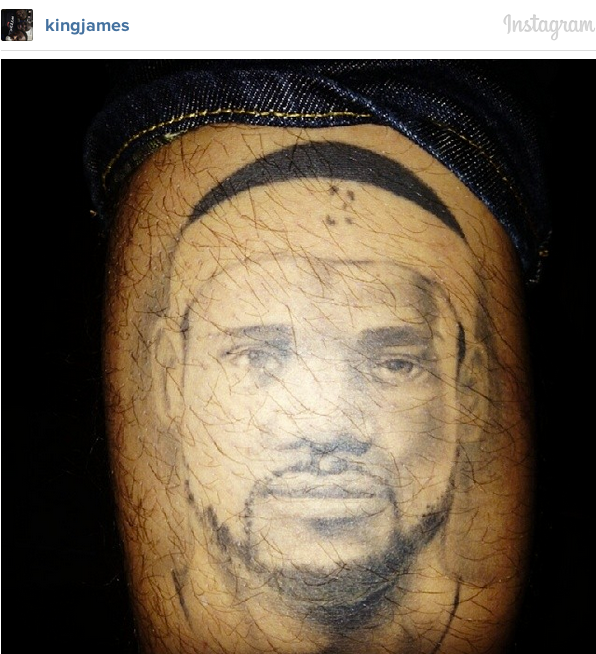 LeBron James posted a picture of a SUPER FAN who tattooed the Heat champ's entire FACE on his leg.  LeBron said he didn't know if he should feel flattered.....or frightened. 
"My guy Shane Battier said he was out somewhere and a guy ran up to him to show him this tatted on his leg. I really don't know how I'm suppose to feel about it. Lol. Ummm I guess that's pretty cool/creepy/awesome all the same time!"
Scary ish.
In other LeBron news, the Miami Heat have been struggling on the court lately.  This past week, they were beaten by both NY teams.  They lost to the Brooklyn Nets (95 - 104) and the NY Kicks (92 - 102).  Womps.
Photo via LeBron's Instagram