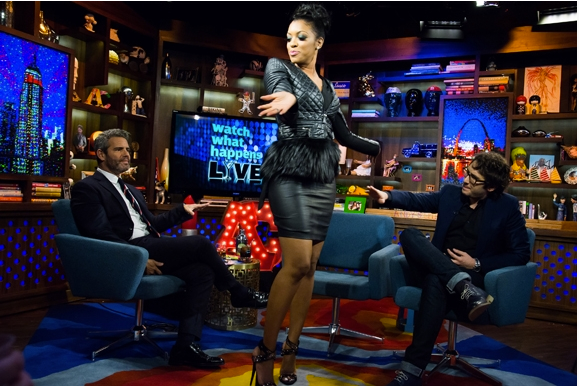 In today's example of why there are plenty of men--even those of "high caliber"--who love a trophy chick, Porsha Williams is dishing about re-entering the dating scene.  And nope, her lack of common sense and intelligence don't seem to matter for some men.
Deets inside...
Who needs intelligence or the ability to actually have a job....when you can work a weave and a beat face like nobody's business. The pretty & bubbly Porsha Williams of "Real Housewives of Atlanta" dished to ABC News Radio Online that she's been back on the dating scene since the month after her divorce from Kordell Stewart was finalized. 
She's also talking about why she's still ready to be someone's wife--as long as he's attractive and wants to be married--and she's fielding dating offers that come through her publicist and manager.  We can only wonder if any of these men sent her an Underground Railroad For Dummies book as well.
Here are the highlights:
On Why She Decided to Date One Month After Divorce Finalized:
"Well I'm a woman and the heart it loves hard and you can't just snap your fingers and tell it to stop caring for somebody. I definitely care for anybody's well being that I dated. But as far as me holding onto that and it hindering new love in my life, I don't think so."

On Men Contacting Her Through Her Manager and Publicist for Dates:
"Men of high caliber they just don't pick up the phone and call you. They have a way of letting you know that they're your secret admirers and I'm enjoying it. Some of them are special."

What She Looks for in a Man to Date:
"The next boyfriend definitely needs to be husband material because I am a hopeless romantic so I definitely want to get married again. I need God to tell me that he's the one and I'm going to take my time until I get that; until it has resonated in my soul. He needs to be handsome. He needs to be God-fearing. He needs to be about family. It's a list of things. I'm also willing to compromise, but at this point in my life I want it all and I'm not gonna settle.

Why She Changed Her Name Back to Williams After Initially Wanting to Keep Stewart:
"I am officially Porsha Williams. I was holding onto something and I really can't explain to you what it was. But just as a woman we have the right to change our minds. I just want to leave my own legacy and I want to build up who I am, and be able to leave that with that name Williams

 
Good luck Porsha!  We know she means well...
Photo: Bravo