Newly-reunited band Outkast will end their 6-year hiatus at Coachella this year.  Get the deets inside and find out about Diddy's latest wine & spirits venture......
We hinted at a possible Outkast reunion a few weeks ago and it's FINALLY official!  On Instagram, Big Boi tweeted a pic with Andre 3000 saying, "Outkast will be Headlining #Coachella 2014 ! Stank You Smelly Much ! And stay Tuned !!!"
Coachella 2014, set for April 12-14 and April 19-21 in Indio,CA, will also feature Arcade Fire and Muse alongside breakout star Lorde.  Other YBF faves include A$AP Ferg, Pharrell Williams, Nas, Solange, Chance the Rapper and Trumbone Shorty,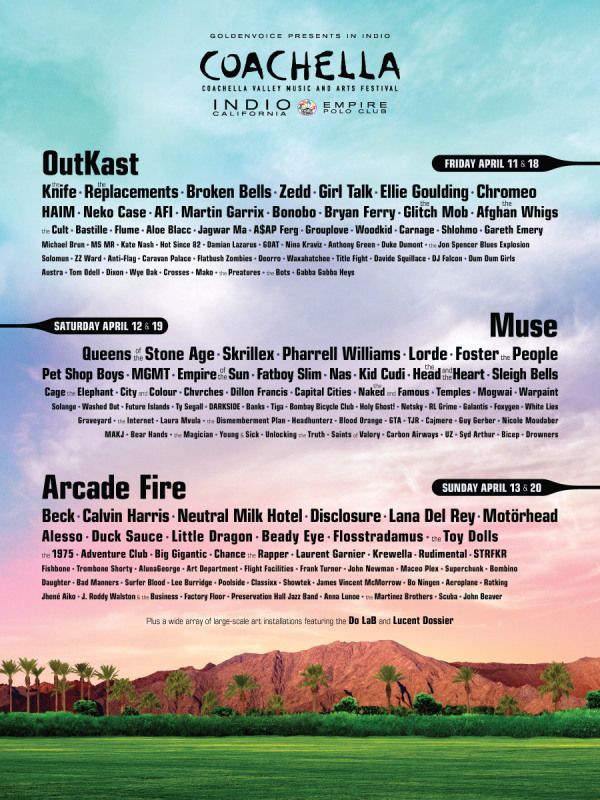 Festival passes for both weekends go on sale Friday, January 10th at 10AM PST.
In new business ventures...
Mega-mogul Diddy has acquired the DeLeon Tequila brand.  He announced the deal via Instagram saying,
"It Was All A Dream, and Now It's A Reality... Ladies and Gentlemen we are proud to announce the Combs Wine & Spirits newest acquisition @DeleonTequila #DeleonTequila #LiquidLuxury #DreamBig #rp"
What can tequila lovers look forward to? One of Diddy's captions captured the oral essence of it all....and what he's calling "liquid luxury".
"ANEJO: Aged a minimum of one year, with undertones of Butterscotch, Mild Wood and Black Cherry it is stunningly round and smooth! I personally enjoy Anejo with a robust Cuban cigar. #DeleonTequilaAnejo #DeleonTequila @DeleonTequila #LiquidLuxury #TheArtofAgave #Rp "
During a recent interview with FORBES, Diddy, who helped turned Ciroc into a 2-million bottle per year force in the Vodka industry, hinted that the DeLeon deal will be even bigger. 
"With Ciroc, we tested the waters—or, I would say, we dated, "Now, with this joint venture, we took this step and we got married. I think it's organic, I think we work together so well, we have a proven track record, and I wouldn't want to do it with anybody else."
Also, Diddy's new deal differs from Ciroc (from which he earns profits and proceeds from any potential sale) because he invested his own money (through the newly formed Combs Wines & Spirits) and is an equal partner with Diageo North America.  So this time around, he's got true ownership.  Nice!
Also....the liquid luxury liquor isn't priced for the average consumer.  FORBES revealed the five variants of DeLeon will range from $120 to $1,000 a bottle.  Get into that.
One of the first folks to congratulate Diddy was Kris Jenner.  Of course.
She tweeted,"Congratulations Sean @iamdiddy on an amazing Dream come true!! Love this....#DeleonTequilaAnejo #FabulousFollow"
Are you ready for luxury?
 
BONUS:
After seven years with Def Jam, The-Dream announced to his fans that he's parting ways with the label. On Instagram he shared,
"I will miss this logo. It all started here! Love Everything that I achieved there, EXODUS THE-DREAM #exodusthedream."
Though he was named Executive Vice President of A&R at Def Jam in 2012, he hinted that he has far more to do in the music industry,
"Let the New Tides bring The Things not yet seen! There's more where those came from!"
We'll let you know where he washes ashore.....
Photos via Diddy's Instagram/BigBoi's Instagram