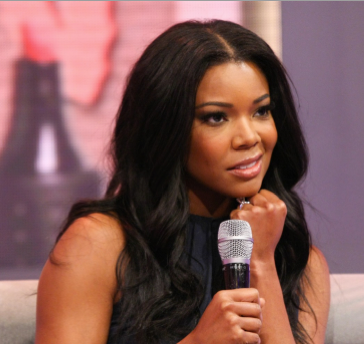 Gabby Union helped "Being Mary Jane" rake in a whopping 5 million viewers for that #1 slot on television last night.  Deets inside, plus Zoe Saldana's new leading role on NBC and Tamar Braxton burning up the stage on "Ellen"....
Good news!  The first original scripted drama series for BET, "BEING MARY JANE", just became the #1 original drama series debut on ALL cable for the 2013-2014 season among Adults 18-49 & Women 18-49. The premiere drew in 3.3 Million total viewers, followed by an encore performance with 1.8 Million total viewers.
Creator Mara Brock Akil has 7 more episodes in store for this premiere season...so get ready for the ride.
Another YBF chick is heading to television with a leading role.  And this time it's network television.  Zoe Saldana was just announced as the star of NBC's upcoming miniseries, "Rosemary's Baby", based on the original suspense novel and classic horror flick from the late 60's.  Mia Farrow played the original leading role of Rosemary Woodhouse.  And if you've seen the original, you know this will be a dramatic and intense situation all around.
Deadline reports:
The mini centers on Rosemary (Saldana), a young wife and would-be mother who, with her husband, moves into a Paris apartment that has a darkly storied past. After finally getting pregnant, she becomes increasingly suspicious that both her husband and their mysterious neighbors have ulterior motives about the future of her child. The role was played by Mia Farrow in Roman Polanski's 1968 feature adaptation.

"Zoe has proven that she is one of our most gifted actresses, and we think she has the perfect combination of spirit and gravitas to take on the title role from Ira Levin's infamous novel," said NBC's head of longform Quinn Taylor. "With Zoe leading the cast under the direction of Agnieszka Holland, this reimagined event miniseries is off to a great start."
A leading role on network television, even if it's just a 4 hour mini series remake, is definitely major.  Congrats Zoe!
Tamar Braxton rolled to "Ellen" today to perform her single "All The Way Home". And she also chatted about her talk show "The Real" getting picked up for Fall 2014, her baby boy Logan, and that big ass new ring she got for Christmas.
Peep that video below:
Tamar's up for 3 Grammy nods as well.
The Randomness:
1.  Ray Allen and Spike Lee Considering 'He Got Game' Sequel   STORY
2.  Chris Brown Rejects Plea Deal in Washington D.C. Assault Case.
Photo: Bennett Raglin/BET/Getty Images for BET