Tamika Fuller, the woman who Ludacrisstepped out on his longtime girlfriend Eudoxie with, is speaking out about the baby girl she recently had with the rapper.  And she's attempting to clear up rumors about her relationship with Luda and her past.
Deets inside....
With reports circulating that Tamika has attempted to extort money and a car from Ludacris, is a former stripper and more, she's now speaking out.  It was also believed she is attempting, or will be attempting, to get child support from Luda.  
Luda has already filed papers of his own for preventative measures (he doesn't deny the child), saying what his child support SHOULD be.  And he paints a picture of Tamika being a gold digger.
So Tamika, who is disputing ever being a stripper like rumors state, has some things to say in regards to baby Cai Bella Bridges.  She says:
It saddens me that it has come to this. I did not file on him. Nor would I ever try to attempt to extort my child's fathers.Ive never asked him 2 buy me a car. I had engine trouble. I asked 2 borrow one of his during my pregnancy so that I could continue 2 get 2 work. I have never been a stripper. I did waitress there in my past. I have since moved on from that. Some of the best people I know are dancers.

She has yet to meet her father and it's unfortunate because I would never keep him from seeing her. Let's not lose focus that an innocent child is involved and her best interests come before any of all of this foolishness. In spite of all that has already happened I just ask that the negativity stop towards him and I. We have a child to co parent. Be blessed.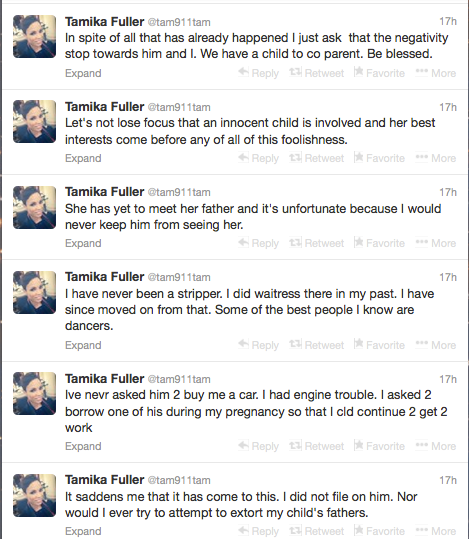 Alrighty then.  Rumors swirled that Tamika attempted to keep the baby from Lida and his girlfriend, but she says otherwise.  And that Ludacris hasn't even met his baby.  Sad.
Photos: Tamika's Twitter