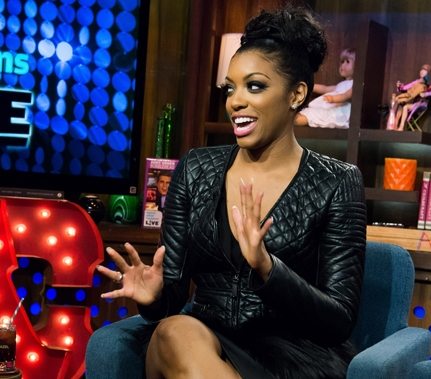 On last night's episode of "WWHL" Porsha Williams responded to "Railroad Gate" and explained (sorta) why she questioned "Who's driving the train?" Watch the tape inside....
Porsha Williams dropped by Bravo's "WWHL" last night where she chatted with Andy Cohen about the Underground Railroad and the collective gasp heard around the country when she asked about the train's conductor and underground entrances.
Porsha explained to viewers that she had a "Porsha moment.....a little brain lapse". She added that "My brain was just going so fast that it was going faster than I was speaking."  
Since the episode aired, Porsha says she has done her "research" and is ready to represent that part of her legacy.  Ummm.....Did you buy that?
EXTRAS:
1.  Oprah Winfrey's OWN has acquired network television rights to The Weinstein Co.'s Mandela: Long Walk to Freedom. Story.