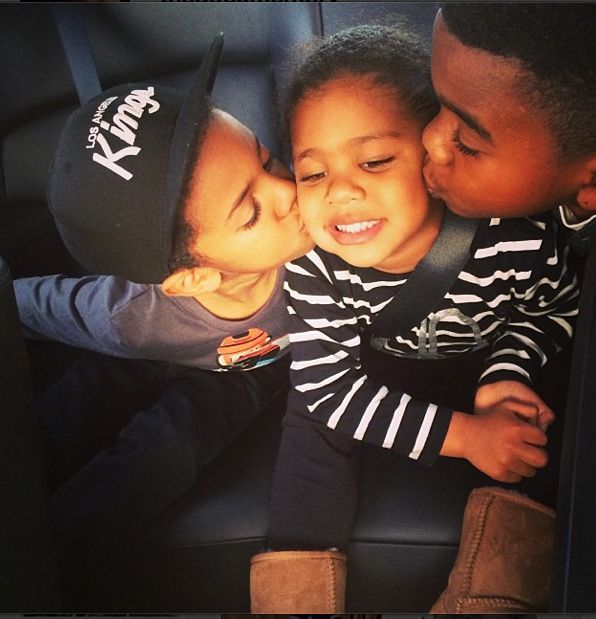 During a trip to McDonald's, The Game's daughter Cali Dream burst into Beyonce's "Drunk In Love" and evoked a funny reaction from her dad. Watch the videos inside....
The Game's daughter Cali Dream (shown atop with her big brothers, above with her grandmother) got caught singing Beyonce's "Drunk In Love" during a trip to McDonald's......then she got a stern "talking to" from her dad!
In three videos posted by The Game and his assistant, we see Cali singing "I be all night" and "swervin on my surfboard."  He said,
@littlemisscali got mad at me cause I told her she can't sing the "surfboard" part on @Beyonce & went to get babied by my momma.  #GoodDaddy #Discipline #NOWhoopingsTheKevinHartStareWorksEveryTime #NoBoyfriendZone #JustBoughtMeANewWaterGun #illSquirtYoLittleBoyHeComeNearMyDaughter #GotARealGunTooSoWhenYouLilNiggasOutGrowTheWatergun #SheCantWearNailPolishTilShe41YearsOld #LipGlossEither #SheCantEverSingThatMyLipGlossIsPoppinSong #iShouldWhoopLilMamaForMakinThatSong #Yea #MyNameIsGameButIDontPlayEm #AnyQuestionsBoutNyParenting #Nevermind #SitYoAssDown #ImTheDaddy 
LOL @ all the hashtags.
Watch the videos here: 
The Game's reaction to "surfboard" is hilarious.
Photos via @thedocumentary and @leazuxsteez