50 Cent posted pics of an adorable little boy who "might" be his son with Daphne Joy.  See the pics inside and check out Robin Thicke and son Julian on a grocery run.
Rapper 50 Cent has posted several shots of a cute chubby-faced (who bears a striking resemblance to him) on Instagram.  Though the pics come with "captions" using the word Dad, we've not received an offficial statement from the rapper about having a new son.  
You'll recall that we first learned about 50's "son" when Daphne Joyfiled domestic abuse charges against him in July 2013 and revealed to cops that they had a child together.  SAY WHAT NOW??!!
Well.....it looks like 50 is embracing fatherhood...again.  He's got his young son rocking the "Street By 50" headphones and he tweeting up a storm, "Somebody get me a bottle before I TURN UP LOL. #SMSaudio"
In other Daddy news.....
"Blurred Lines" singer Robin Thicke went grocery shopping with three-year-old son Julian at Bristol Farms in West Hollywood yesterday.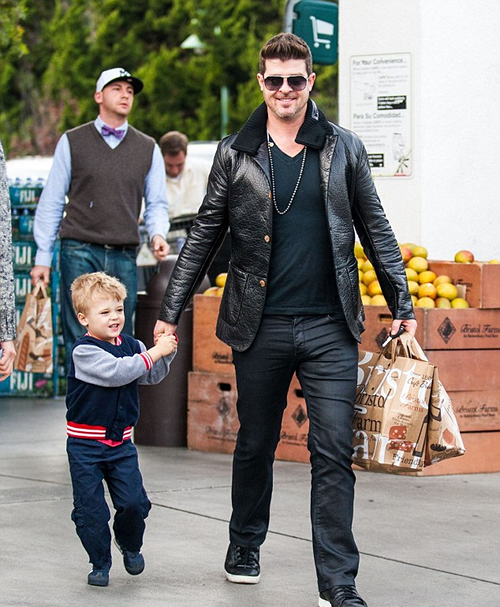 In the latest issue of LA Confidential, Robin talked about his breakout year and all the hard work that came before it. 
"Yeah, it's been a long, f**ing night. A lot happened on the way to 2013. 'I was like Rocky hitting the meat for a couple of decades and then suddenly getting my shot at the title. I feel like I should run around inside the ring with my arms up. Of course, what's great about popular culture is that you can only indulge in your success for so long before you have to go back to being a real artist again and putting in the hours. You have to get back to hitting the meat."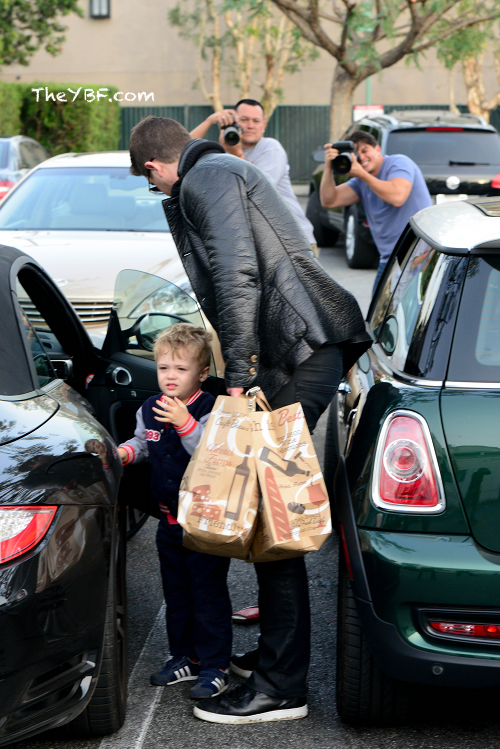 Cute.....the shopping trip seemed to take a toll on lil' Julian and he had to be carried to the car by his dad.
Photos via 50 Cent's IG/FAME