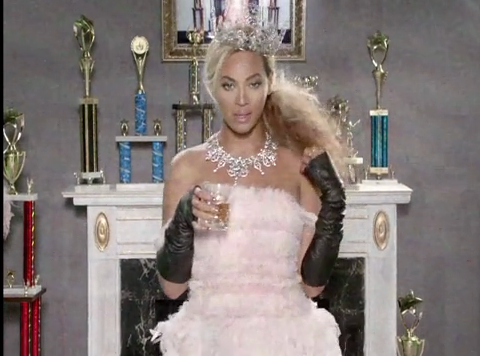 While Beyonce has teamed up with Pepsi to release her full "Grown Woman" video, her husband Hov is appearing on Rick Ross' new track "Devil Is A Lie".  Peep both inside...
Since Pepsi first debuted her "Grown Woman" track during their global 2012 campaign, it's only right their premiere her full video from the Beyonce album as well.
Check out lil 'Yonce when she was a little girl dancing and singing around the house and how she grows up to the icon she is today.  A few of her fave ladies also make appearances as she super imposes herself into old home videos.
Click HERE for the video.  By the way, Billboard just named the best 15 albums of 2013. Beyonce topped their #1 spot.
Now that Rick Ross has pushed back his upcoming sixth album from December to early 2014, his much awaited track with Hov has leaked a bit early.  On "Devil Is A Lie", the fellas spit bars about their usual--money, fame, and suffering from success.
And Jay even addresses the Illuminati rumors saying:
"Devil want these ni**as hate they own kind/ Gotta be the Illuminati if a ni**a shine"
Check out the K.E. on the Track-produced song below before Rozay's Mastermind hits stores:
The Randomness:
1.  Lil Boosie will be freed from jail earlier than expected.  STORY