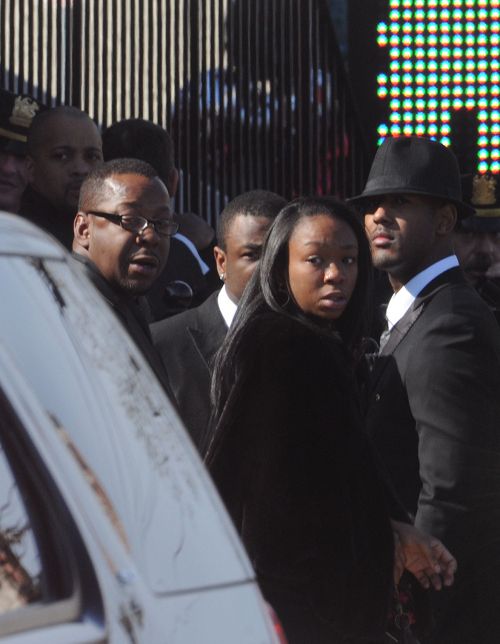 After Whitney Houston's touching funeral today in Newark, New Jersey, her close family and celebrity friends were spotted leaving in mourning.
The pictures, plus Bobby Brown's statement on the drama causing him to leave the funeral early, inside. *Updated with statements from Bobby Brown, Jr.  & Aretha Franklin.*
15 minutes into today's services at New Hope Baptist Church, Bobby brown was seen exiting in a visibly upset manner.  It was reported he left because of a seating dispute.  Bobby brought 9 people (including his other children) to the ceremony but was technically only allowed 3. It was also reported he was not asked to leave, despite the rumors saying so, but left on his own accord.  Here is Bobby's statement he issued today in full:
"My children and I were invited to the funeral of my ex-wife Whitney Houston. We were seated by security and then subsequently asked to move on three separate occasions. I fail to understand why security treated my family this way and continue to ask us and no one else to move. Security then prevented me from attempting to see my daughter Bobbi-Kristina. In light of the events, I gave a kiss to the casket of my ex-wife and departed as I refused to create a scene. My children are completely distraught over the events. This was a day to honor Whitney. I doubt Whitney would have wanted this to occur. I will continue to pay my respects to my ex-wife the best way I know how."
Deep sigh...
Meanwhile, fans, friends, and family of Whitney Houston continue to mourn her passing.  Pictures of Alicia Keys, Mary J Blige, Jessie Jackson, and Stevie Wonder leaving the services: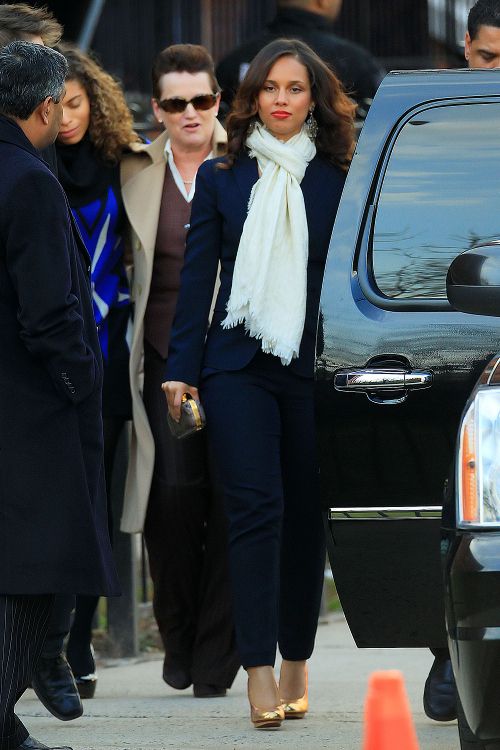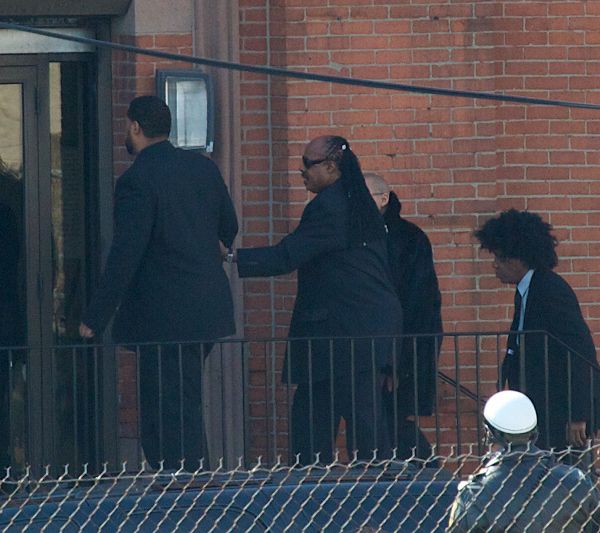 Whitney will be buried tomorrow next to her father.  Her casket will be guarded by 10 security guards while it waits in the cemetery.
UPDATE:
Bobby Brown Jr. has been communicatiing with fans via Facebook and he posted this pic saying, "Doing Fine, Been Better"
He also posted these comments:
I've never been so hurt in my life.
No matter how good, and what good my Father does. why do you guys always have to fucking lie about him and make him outto be this person HES NOT ,what did he ever do to yall man. Fucking scumbags I'm disgusted
What don't break you Sho nuff gonna fucking MAKE #TeamBrown is STRONG mark my word we taken over. Then what the media gon say? #FuckItImOnOne
And Aretha Franklin said.....
Although she did not attend Whitney Houston's funeral (she said her legs cramped up on her after a concert on Friday) Aretha took the stage on Saturday and did her own tribute.
Sitting at a piano at Radio CIty Music Hall, Aretha played "I Will Always Love You" and turned it into a gospel tribute.  Between lyrics, she added,
"She was a very fine young lady.....one of the best, greatest singers.  She was giving, gave so much of herself."
Pics via SPLASH