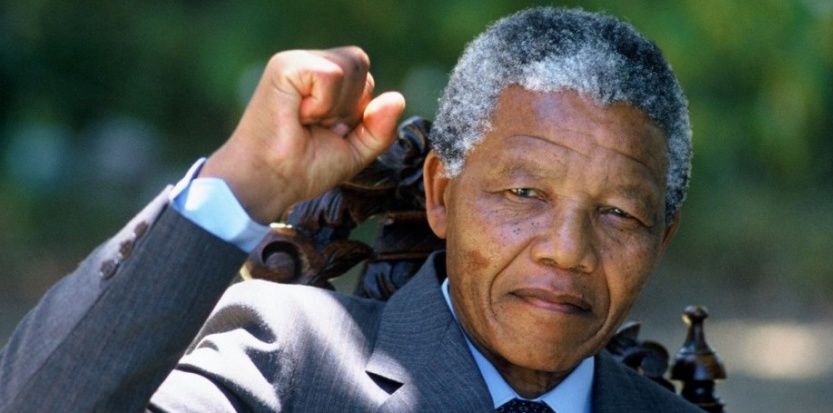 Global icon Nelson Rolihlahla Mandela, who is called the founder of democracy in South Africa, has died.  Remember the man who made activism for freedom & equality his life's work inside....
At age 95, Nobel Peace Prize recipient Nelson Mandela died today after reportedly being on life support for several months.  He reportedly died in his own home.
Interestingly, Mandela is a former boxer, but he became legendary for fighting against oppression with non-violence.
His name is synonymous with the struggle and eventual triumph to abolish South Africa's legacy of Apartheid.  He fought to end forced racial segregation of the country, fought to change the government and promote peace.  He constantly promoted freedom and equality throughout South Africa.
He became a more physical activist by founding a military to fight against the government who constantly killed scores of citizens. As an anti-Apartheid activist, Mandela was then imprisoned for 27 years after being convicted of sabotage and conspiring to overthrow the government.  
When he was freed at age 75, he was overwhelmingly democratically elected as South Africa's first black President. And it proved to the world that fighting for peace and equality is a necessity, no matter the consequences.
Jacob Zumba, the current President of South Africa, gave a press conference moments ago confirming that Nelson Mandela has passed. He said:
"Nothing can diminish our sense of the profound loss.  his entire struggle for freedom gained him the respect of the world. His humility, his compassion and his humanity...
Our thoughts and prayers are with the Mandela family.  To them we owe a debt of gratitude.  They have sacrificed much and enjoyed much so that our people could be free."
Losing a global icon who has been called one of the kindest men on the planet is sad news. Many reporters in South Africa have said that citizens simply wanted their beloved "Madiba" to finally be in peace.  And now, he is.
The Obama family made a historic visit to Mandela's home to meet him two years ago, and President Obama spent time in his jail cell on Robben Island.
The world will be able to see a new glimpse into his life with the upcoming biopic, Mandela: Long Walk To Freedom.  The movie is premiering tonight in  London.  
His amazing legacy will forever remain a moral encompass and a symbol of freedom for us all.  And a reminder to never give up.
R.I.P.
"It always seems impossible until it's done." -Nelson Mandela