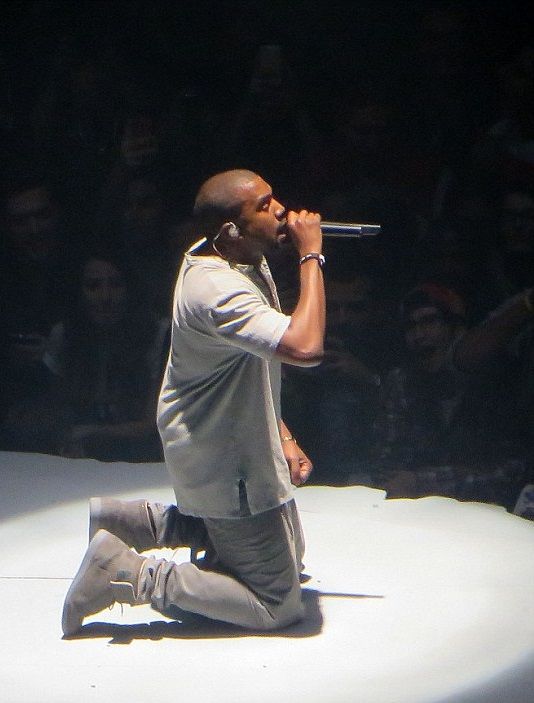 Kanye West abruptly exited the stage midway through his concert stop in Tampa.  Find out what made him walk off stage inside, watch Kanye's proposal that will appear on E! soon, and get other bits....in case you care.
Bit #1.
During his concert stop through Tampa, Kanye West pulled a "diva" moment and cursed out a sound technician named "Laura" before storming off the stage.  According to a few of the 7,000 eyewitnesses, Laura failed to get his "levels" right.  After he spewed a few curse words, Kanye demanded the lights be shut off as he stormed off stage.  Apparently, Ye also had issues with the way his images was projected on the LED screen.  After Laura & Co. got their ish together, he hit the stage and performed "Send It Up".
Bit #2.
On his tour stop in Miami,  Kanye began calling his "situation" with NIKE an"extortion."  You'll recall that during his interview with The Breakfast Club, he complained that the company forced certain "Footlocker" owners to buy additional NIKE footwear in order to get more Yeezy sneakers.
Bit #3. A new report from BING says Beyonce was the most-searched person in 2013. Though Kim went through a divorce, a constant fixture on Kanye's arm, and gave birth to North....Beyonce was singing at the Inauguration, performing at the Super Bowl, kicking off The Mrs. Carter Show World Tour, and opening up on her HBO documentary. Also, she starting showing pics of Blue Ivy!
Bit #4. In the new trailer for "KUWTK", Kanye and Kim show a sneak preview of the proposal and inside footage of their 9,000 square foot mansion they're still gutting and remodeling in Bel Air. 
Bit #5.  KimYe are among the celebs who made Barbara Walters' list for the "Most Fascinating People of the Year" for 2013. They will be profiled (along with GMA anchor Robin Roberts) on The 90-minute program airing Wednesday, Dec. 18, at 9:30 p.m. ET on ABC.
Watch a seak peek at that proposal below:
'Ye heads into Kansas City tonight.
Photo via WENN