If the below pregnancy pic is legit, Michael Jordan and his wife of 8 months, Yvette Prieto, are expecting their first child together.
Deets inside...
Do Michael & Yvette have a baby on the way?  It sure seems that way.  While nothing has been confirmed as neither of the two are big on speaking publicly about their relationship.
The below pic of a woman, who is supposedly Yvette, sporting a baby bump was leaked to a website called GigiOnThat.  The site claims the newlyweds are indeed expecting.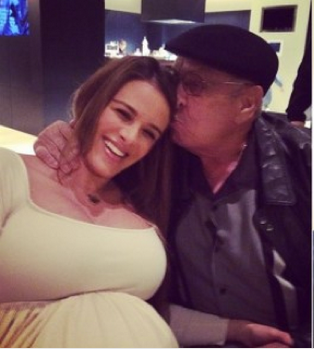 Wonder what Mike's kids think.
A pregnancy isn't all that surprising as it seems Yvette always planned to pop out a few Jordan heirs.
Despite Michael's rep denying he ever had a vasectomy in the first place (t supposedly occured after his first marriage ended), reports surfaced this past summer saying he had that alleged vasectomy reversed....at the urging of Yvette.
"That was part of the deal of them getting married," said a Gossip Extra source. "Yvette was pretty adamant about having children with Mike. He had the vasectomy as his first marriage ended."
Vasectomy or not...it looks like chick has sealed the 18-years-of-major-cash deal and is expecting the newest heir to the Jordan throne. 
Congrats if true!
UPDATE: According to this report, Michael's rep has confirmed that the couple is indeed expecting.
Photo: Getty/GiGiOnThat