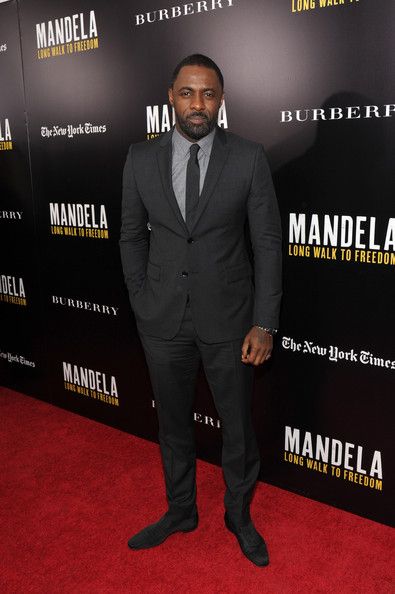 Mandela star Idris Elba isn't feeling his personal life...and much rumored ladies' man ways...being the topic of discussion these days.  But welcome to being a major star Mr. Elba. Check out how the hottie says his pre-teen daughter keeps him grounded, why he's annoyed by questions about his alleged pregnant girlfriend and more....
Idris Elba is starring as Nelson Mandela in the upcoming flick Mandela: Long Walk To Freedom.  But he says their ladies' man personalities aren't what they have in common. (If you say so Idris).
He told USA Today that he's pretty annoyed by his personal life taking center stage in the media. But when you bring your chick to very public work events, like movie screenings and premieres, you're pretty much inviting your personal and private lives to cross.  Maybe he should also inform his alleged girlfriend to not post on her social media about being pregnant and alluding to the fact it's his baby. 
But we digress.  Check out the highlights of the sexy actor's newest interview with USA Today:
On his alleged girlfriend Naiyana Garth and her alleged pregnancy
"Recently my private life is creeping into my work life and that annoys the (expletive) out of me," he says. "This is my work. My life is different."
On his ladies' man persona
"My director likes to point out that Mandela was a ladies' man. What the (expletive)? That's why you hired me, because you think I'm a ladies' man?" Elba says with a laugh. He denies sharing that characteristic with Mandela. "What I do see is the ambition. He's got drive and I have a lot of drive, annoyingly. I never want to sit still. My agents are like, 'Calm down.' But why take six months off?"
On meeting Oprah
"I was just sitting with Oprah Winfrey, who has been a landmark, a pinnacle for success. If you sit with Oprah Winfrey, you've made it," he says. "My mum believes that. It's been surreal to have this attention thrown at me. It's a massive honor."
On the recent death of his father
"My father passed recently. I based my character in Mandela on my dad. He was the only 70-year-old man I knew. Watching the way my dad got out of chairs was my basis for Mandela. Watching that film with him when he was alive was really surreal. He was so impressed. He (understood) what I was doing for the first time," sighs Elba.
On his daughter keeping his grounded
"I hug trees. I've got a tree tattooed on my arm. My daughter (Isan, 11) and I, every New Year's if we're together, we go out at the stroke of midnight and we go sit by a tree and have a picnic and chat. It's really good for highlighting that that was then and this is now," he says.