Kanye West and Kim Kardashian did NY radio today and we have highlights from interviews with Hot 97 and 92.3 Now.  Read about Kanye's new Adidas venture and why we (his fans) should boycott Louis Vuitton inside...
Kim Kardashian and Kanye West (above) were seen leaving a radio station on Monday afternoon where Ye did a quick radio tour to promote his Yeezus Tour.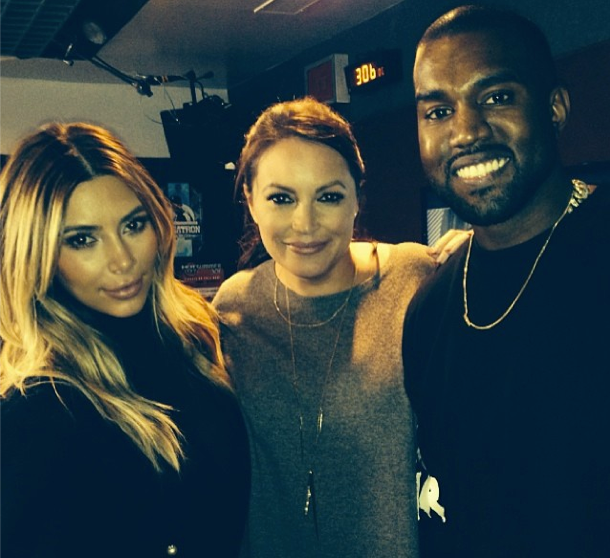 In addition to a stop at 92.3Now, Yeezy stopped by Hot 97's Angie Martinez's show where he revealed a new venture with Adidas (where he'll collect royalties).  His girl Kim was part of the interview too apparently.  As expected, Kanye went on several rants and we were about to catch a few Kanye quotables.....
What he told NIKE when they said they couldn't give him a royalty (on the Yeezys) because he wasn't a professional athlete:

"I go to the Garden one on none!" (Meaning he's at the Garden selling out by himself every night...but atheletes do so as a team.)


On getting in trouble with the media:

"What do I get in the most trouble for? Telling the truth. If I get in trouble for telling the truth, what are you being told the rest of the time?"

Kim K on how Kanye is as a parent

"His face lights up when he's with our daughter and he is the most amazing dad ever."

Kanye on his new deal with Adidas:

"I am going to be the TuPac of product....I am going to be the first hip hop designer. And because of that, we gonna be bigger than Wal-Mart."


On meditating with Deepak Chopra

"You know what calms me down the most? Success. You can't meditate me out of my ideas."

On the Hollywood Walk of Fame

"The only relevant thing to happen to the Hollywood Walk Of Fame is that she wants a star. (Kim) and I talked about it."

On who he should compare himself to:

"I do myself a disservice comparing myself to Steve Jobs and Albert Einstein, I should compare myself to Willy Wonka."
Oh 'Ye...
And on 92.3 NOW.....
During an interview on 92.3 Now, Kanye West called for a boycott of Louis Vuitton.  Why?  He was offended that the head of LV didn't meet with him. Seriously.  
He said, "While I was in Paris I wanted to meet the head of Louis Vuitton and he said 'I don't understand why we need to meet with you?' I said let me explain to you why you need to meet with me," he said before sending out a message to his fans.
"Everybody in New York City right now, don't buy any Louis Vuitton until after January… Now do you wanna meet with me? Influence… they think that I don't realize my power."
Will Kanye's demand keep you out of the LV store for the holidays?
Photos via FameFlynet Pictures/Angie's IG