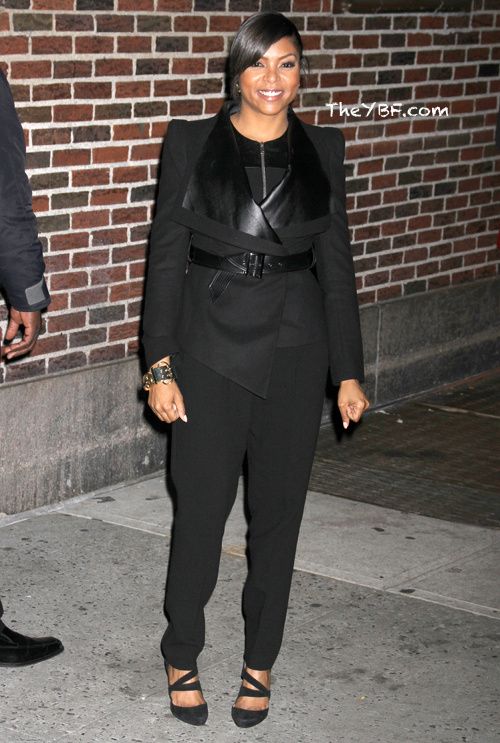 "Person Of Interest" star Taraji P. Henson talked to David Letterman about the axing of her character, where she revealed that she knew it all along! Watch her interview and find out why she told her Grandmother ahead of time!
"Person Of Interest" star Taraji P. Henson, shown atop outside the Ed Sullivan Theater in New York City for an appearance on 'The Late Show With David Letterman', opened up about the demise of her beloved character Detective Joss Carter.
Shockingly, the filmstar revealed that she always knew her character would be killed off.
"I knew when I signed on to the project that the character would have a beginning, middle and end. Because me, I do more feature films and television is really not my thing...So I thought it would be the perfect venue for me to do a television show and not be stuck for seven years and still be able to do...whatever. I just didn't know when."
Despite knowing her fate, Taraji had to keep it a secret. "Oh my god, the secret is out, I can live my life! I felt like I've been hiding a secret, keeping a secret from my lover!"
Taraji did tell someone. Guess who?
"My mom, she knew, and my grandmother. Cause you can't shock grandma like that, she might go into cardiac arrest."
On social media, Taraji retweeted a few responses to her character's death on her timeline....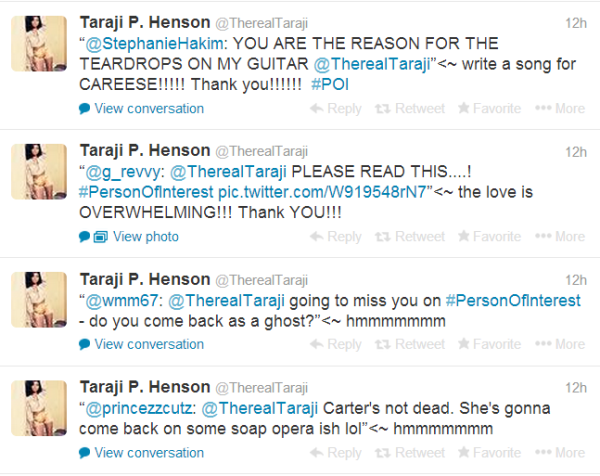 DEAD & "teardrops on my guitar"
Taraji also posted some love for her Instagram followers saying"Thank you!!!! The love for Carter keeps pouring in! My heart can't take it. Y'all are the best!!!!!!!! Can not thank you all enough for this out poor of love!!!!!
Watch Taraji's interview:
Phots via Taraji's Instagram/Dara Kushner/INFphoto.com