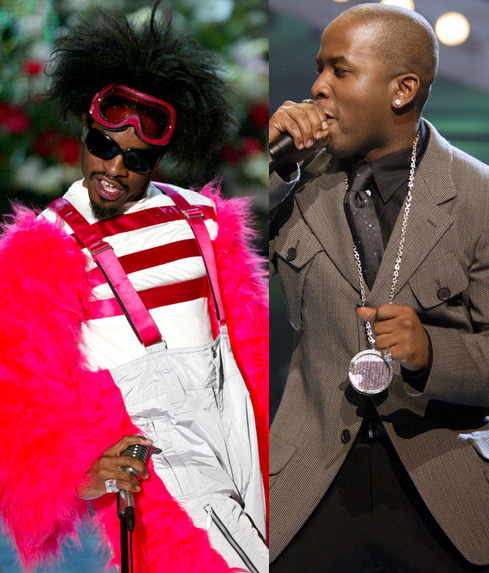 Outkast is set to reunite (on stage) in 2014.  Get the deets inside and find out how Mary J. Blige toned her abs and changed her life in the process.  Also, watch Wicked Wisdom's "Stuck" video.   
 According to Diddy's REVOLT Network, Outkast will be reuniting in 2014 for performances across the US.  The performances (at multiple festival dates) will mark Outkast's first appearances onstage since 2004 and coincide with the 20-year anniversary of their debut album, Southernplayalisticadillacmuzik.
Earlier this year, Big Boi told Power 106 "We've been kind of discussing some things (reunion)...Once we map it out, we'll make an announcement. But we'll see. It's 20 years, man … I wanna see it too, I definitely wanna see it too. Mum's the word right now, but we gon' see."
We are SO ready...
In magazines......
Mary J. Blige covers the December issue of SHAPE Magazine where she explains how she got into the best shape of her life. Shown above with SHAPE Editor-In-Chief Tara Maria Kraft, MJB explained how Whitney's death helped her get in shape and how she conquered her fear of swimming.  Here are the highlights: 
On how Whitney's death inspired her:

Whitney Houston's death really crushed me.. I saw someone so incredibly talented just diminish, and I refuse to go out like that.

On maintaining her bod:

My main exercise is cardio. The treadmill is fine but running outdoors gives me the best results. I try to log 6 to 8 miles a week. I could be in the worst mood, but when I do my cardio I feel much, much better.

On giving up alcohol:

Others may be able to drink and have a great time, but it doesn't work for me at this point. I haven't had a drink in a year and three months. I had quit for a long time but started again about five years ago. I'm off it completely once more, and now I feel stronger than ever."

On swimming and conquering fears:

I never swam as a kid and that always bothered me. At first, it was very hard, but once I got in the water and figured out how to breathe, it was so liberating. Now it's helping me with every aspect of my life - personally and professionally. Conquering that fear was a huge boost to my confidence. I'm as proud of this accomplishment as I would be if I had graduated from college, which I never got to do.
In other MJB news, Mary taped a CMA Christmas Special recently (airing December 2nd on ABC), and she's starring in Black Nativity (November 27th).
And chick is looking GOOD.
In new music videos......
Jada Pinkett Smith's band Wicked Wisdom have released a video for their "Stuck" single.  Directed by Moises Arias, the clip shows Jada staring at her wedding ring while reflecting on her inability to let go of the past. She's "Stuck".
So stuck on yesterday
I cannot find my way
So long for you stay
But this time there's just no way
Why, why do we suffer (x2)

I remember when you kissed me
Said you'd always love me
Your words broke me and left me there
Staring at a shadow
SIDEBAR:  There's no use in drawing any comparisons between this song and Jada's marriage to Will as it appears they are still very much together.  So it seems...
Photos via Shape Magazine/Tara Maria Kraft Instagram