In part 4 of TheYBF.com's Opening Weekend Exclusive Interview Series with the cast of Best Man Holiday, we chatted up the man behind it all.  And we had to find out the reason behind the drastic changes in the sequel....and the crazy emotional roller coaster.  Our interview with Director Malcolm D. Lee inside...
He's having a blockbuster weekend at the box office with almost tying the #1 movie Thor, which is playing on almost twice as many theaters.  So Malcolm D. Lee's (Scary Movie, Welcome Home, Roscoe Jenkins) vision for the sequel of his classic film, Best Man, is clearly a winner.
But if you're wondering abut the drastic emotional roller coaster, those intense (and intensely funny) scenes, and the difficulties of making the film, we got to the bottom of it all with the director himself.  Check out our sit down with Mr. Lee.
YBF: The new plot of The Best Man Holiday will be a surprise to audiences. Tell us why you chose to take such a different direction with this sequel.
MALCOLM: I didn't want to repeat myself, 14 years later you can't just tell the same old story. I wanted to do something that was more sophisticated, more complex because the circumstances dictate that. These characters may be the same people but they've changed, they've evolved over the years. What you think about when you're a post graduate in your mid 20s is very different from what you think about in your late 30's/early 40's. When you're an adult, you have adult things you have to do; kids and mortgages and car payments and the career struggles. So that was a reason to do it.
But that was also a reason for the studio to say, this is such a departure from the first one.
And I can understand if we had done a sequel that was two or three years later that they wanted to revisit some of the same themes, but 14 years later you can't do that in my mind.
YBF: When originally creating these characters, did you base them off a college clique of your own or did you base them off people from your life or start them all from scratch?
MALCOLM: I think it's a combination of all those, there's no one character that is one person that's in my life or that I went to school with. I have the luxury of having a lot of different kinds of friends. Some clicks weren't always the same as other clicks, and I got along with a great number of people. So I was able to bring a lot of diversity of character to these characters based on my relationships and my own imagination.
YBF: The Best Man Holiday will definitely be another classic, what was your favorite part of making the movie?
MALCOLM: Just getting the movie made in general, there are a lot of things that were great and challenging about the movie. Whenever all of the actors were together, that became much more of a challenging thing with all the dinner scenes and introducing everyone in that first scene when they all come in. It's incredibly difficult because a lot of coverage has to be done.
But there are some fun scenes like the "Can you stand the Rain" bit.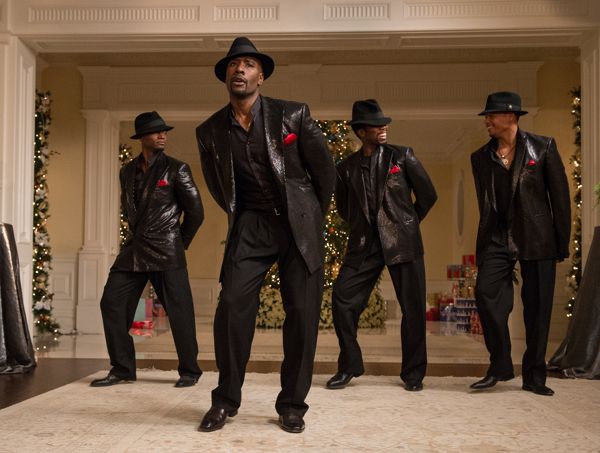 YBF: Tell us about that! It was such a classic moment.
MALCOLM: It was a great moment. It was very reminiscent of my experience at Georgetown University. We had contests like the lip-syncing contest that like that. It was a great way for the guys to dance for the ladies; they were really into it with the whole choreography of everything. It was awesome.  Even shooting the football [scenes] was great. It was my first chance to show how I could tell a sports story.
YBF: Did we see that you played a defensive back in the film? You posted a photo in a full on football uniform one day.
MALCOLM: Yeah I did, I cut myself from the movie though. I had to, it didn't make any sense. Well it made sense but it just wasn't warranted. It will never be seen by anyone.
YBF: What do you want audiences to take away from the film?
MALCOLM: Be prepared for a fun relatable ride. Lots of laughs, lots of drama, lots of tears. It will be an emotional rollercoaster as people have been saying.
Best Man Holiday is in theaters now!  Check out our previous interviews with the cast HERE.
Photos: Universal Pictures, YBF Correspondent: Kalia Sliva