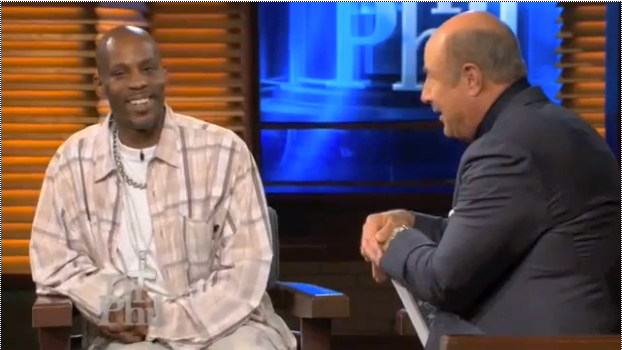 DMX's "therapy" session with Dr. Phil aired today.  And we have the interesting things we learned from it inside...
Dark Man X had a sit down with Dr. Phil on his talk show.  X says he's been "sober" for a year--and we learned "sober" for DMX means he's stopped all drugs EXCEPT weed and alcohol--and he did seem more cognizant and more "himself" than that doomed Iyanla Vanzant interview.
A few notable things X revealed:
1.  Dude has 11 children with 6 different women--and he has a 12th on the way!
While X told Dr. Phil he thinks it's OK to keep having all these kids as long as he can care for them and spend time with them, he also admitted he's over $1 mill behind in child support.  And he says it's because he was once making $13 mill, a year and the child support demands were based on that.  Alrighty.
2.  A family member gave DMX marijuana at age 8.
"I don't know why.  At 19 [I had a drug problem].  I'm always going to have a drug problem.  I don't have to get high.  I smoke weed, I drink, yes.  And one day that will be gone.  My faith is in God but he's not going to remove it all at once.  I'm taking steps and taking steps with him to get where I need to be."
3.  The rapper has been arrested 25 times...since 1994!
He said, "Whatever's happened, it was supposed to happen."
4.  He ran bucked naked in that Detroit hotel strictly because of a bet.
"It was a bet, it was a dare.  And I did it. The dare was order room service, then run through the hallway naked.  I said, 'I'll do that.'"
5.  He doesn't regret ANYTHING....and we mean ANYTHING.
When asked about what he feels his biggest mistakes were, he said, "I wouldn't redo anything.  It got me right here where I am right now.  I'm in a good place.  No regrets."
6.  He went on "Couple's Rehab" simply to appease his now ex-wife
X revealed he and ex-wife Tashera Simmons were not attempting to get back together when they went on VH1's "Couple's Rehab" recently.  Tashera said she had some things to get off her chest, so he agreed to go on with her.
Peep part of the interview below: