Get your new lingerie ready....because K-Ci & JoJo have revealed that they're in the studio recording new Jodeci music!  Get the deets on what the legendary group have in store and read Jaden Smith's controversial Twitter comments about the educational system and how it's destroying the youth.
If you've been feenin' for an R&B group who can actually sing to return tot he scene...good news! There will likely be new music from the foursome Jodeci very soon.  During an interview with HuffPost Black Voices to promote their latest album, My Brother's Keeper, K-Ci & JoJo revealed that they've been recording new music with DeVante Swing and Mr. Dalvin.  Yes, DeVante is sober enough to make some music, apparently.
In fact, K-Ci Hailey stated they "never broke up".    
"We are not getting back together, simple reason is we never broke up. [Laughs] We have a vault of CDs that we could just put out at any moment. But just like when Jodeci first came out, nobody expected that. And we're just going to keep it that way. But for now, with the love from Mr. Dalvin and DeVante, they're pushing me and JoJo. They're like "do what you gotta do," DeVante said; "I'm going to let y'all know when I'm ready. But y'all continue doing what y'all doing." And actually, we're in the studio right now. We record new Jodeci material every chance we get… So we're just waiting on DeVante's call."
K-Ci also said they'd consider reuniting with Diddy, if DeVante approved of it.  
"You never know, you never know. When it comes down to production for Jodeci, we leave that in the hands of DeVante himself. Just tell us what to sing. We all have input, but we leave that production part on him. He can have that job. I couldn't handle it."
Read the full interview here.
In case you missed it.....
"Knock It Off" is the lead single from K-Ci & JoJo's My Brother's Keeper album hitting stores September 30th.  Anybody else excited for the return of Jodeci?
And in controversial Twitter rants.....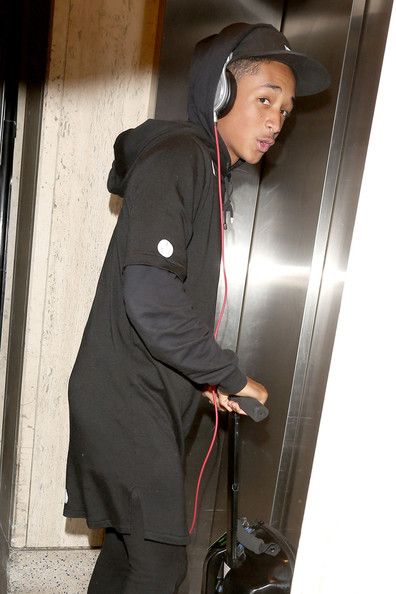 Jaden Smith's controversial critique of the US educational system has gone viral and has many parents outraged!  Because the Karate Kid star has an influential audience of teens who follow his tweets, his suggestions that the world would be a better place if "everyone" dropped out of school have many folks scratching their heads.  And, quite honestly, is just plain irresponsible.
Because Jaden and Willow are home schooled, allegedly, we're not sure what makes him an expert in this area.  But we'll tip our hat to Will and Jada for raising a home full of "free spirited" thinkers.  You never know what will fly out of their mouths.  But maybe they should be urged to be a bit more responsible when speaking on public platforms. 
Not all opinions need to be put on Twitter.
Photos via Youtube, Pacific Coast News