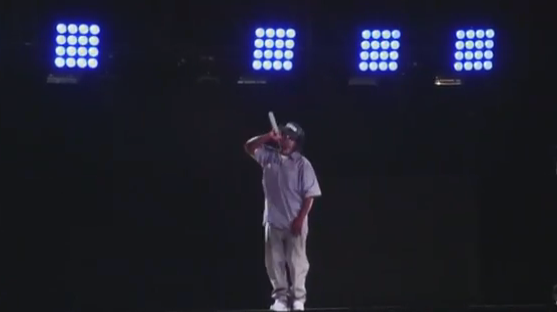 Eazy E made a holographic return yesterday at Rock The Bells....18 years after his death.  Check out video of the quite amazing performance....
He's crowned as the godfather of gangsta rap, so it's only right a computerized version of Eric "Eazy-E" Wright popped up with NWA at the San Manuel amphitheater yesterday for Rock the Bells....and had the crowd on 100 when the animation kicked off the set with "Straight Outta Compton".
After the Tupac hologram, honestly we got a little scared at how real this hologram ish looked.  But it's cool to see.
According to Revolt TV, Eazy-E's hologram performance was a combination of his sons Lil Eazy (the body of the avatar), E3 (the voice), and his daughter Erin (the face).
He rocked out with "Boyz-N-The Hood" and Bone Thugs-N-Harmony's "Foe Tha Love of Money." And ironically, this all went down on his birthday.
And this may not be the end of the Hologram resurrections.  Because WuTang Clan is set to headline tonight's Rock the Bells concert in San Bernadino.  And they already said they're featuring Ol' Dirty Bastard.  Here we go...