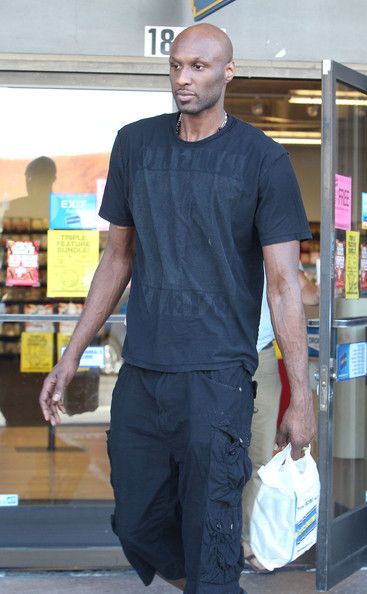 The discrepancy over whether or not Lamar Odom is in rehab or was ever in rehab has just gotten more confusing.  Deets inside...
With reports of an alleged $800/day crack cocaine habit and a crack dealer allegedly actually having to cut him off now surrounding Lamar Odom, there are still conflicting reports around his rehab stint.  Or lack thereof.
Initially, reports surfaced that the NBA free agent had entered a rehab facility.  When a conflicting reports came out a day later that he was nowhere to be found in really any rehab facility, it left folks scratching their heads on where he was exactly.  Reportedly, his wife Khloe Kardashian Odom knew nothing of his whereabouts.  And still doesn't.
But yesterday (picture above is from last week), Lamar was spotted in "upbeat spirits" grabbing miso soup and sushi with a friend.  So does that mean he wasn't in rehab afterall?  Not necessarily.  People.com also reported yesterday that Lamar did, in fact, check into rehab on Wednesday.  But he checked right out on Thursday.  If you can't last in rehab longer than a day, this is beyond serious.
There's always the chance he's doing outpatient care.  Here's to hoping....
Photo: Pacific Coast News