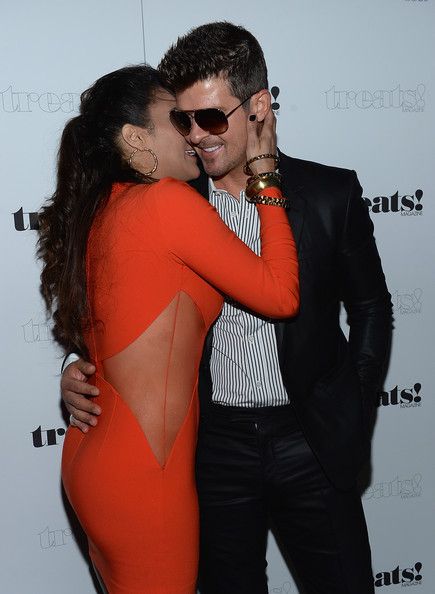 After all that bruhaha after the VMAs with Miley Cyrus rubbing her flat ass and foam finger all up in Robin Thicke's privates, and people thinking Paula Patton needed to yank her to the side to tell her about her inappropriateness, all is well in the Thicke household.
Check out the cute couple cuddled up at Robin's album release party last night for his project that came out in July, plus find out what happened to Kandi Burruss' spinoff...
It was all kisses and cuddles at Robin Thicke's Blurred Lines record release party at No.8 in NYC last night.  His sexy wife Paula, who's out  promo'ing her new movie Baggage Claim, was all up on her man last night showing the world that ish with Miley was just an act.  And a bad one at that.  We already knew that though.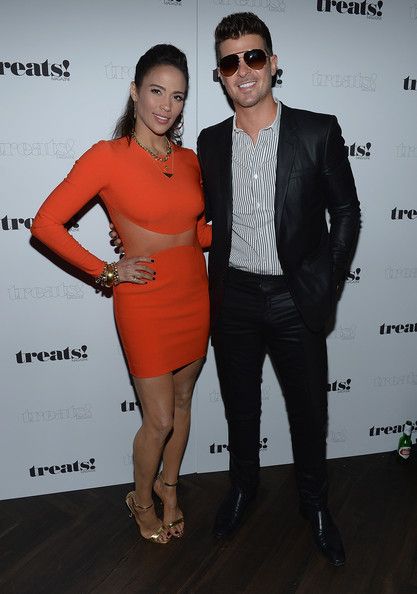 The twosome are fresh off a trip to Miami where they went for Robin to rock a concert with Pharrell, and now they're back in the Big Apple.
Paula kept it hot in a skin tight orange Stella McCartney dress with a signature mesh cut out tummy and gold ankle strap heels.
And Robin entertained the crowd fabulously as always.  These two always look so in love.
Speaking of love, there's none of that for reality star Kandi Burruss.  At least not where Bravo is concerned.
Kandi recently said she was "stressed" and was headed intot he studio to release (above), and now we may know why.  Bravo recently told her that her spinoff show, Kandi Factory, has officially gotten the axe.  It was rumored this would happen, but now, it's official.  She even confirmed the news to her fans on Twitter. 
This really isn't a shock.  We can probably count on two hands how many people were actually watching.  And based on the drama involving the contestants who were promised a song release via the show, we had a feeling that mug wasn't making a return.
Oh wells.  Now she can go back to focusing on "RHOA," her beef with Kim Zolciak (who some type of way KEEPS getting her spinoff show renewed), and her Bedroom Kandi ventures.
Photos: Wiriemage, Kandi's IG