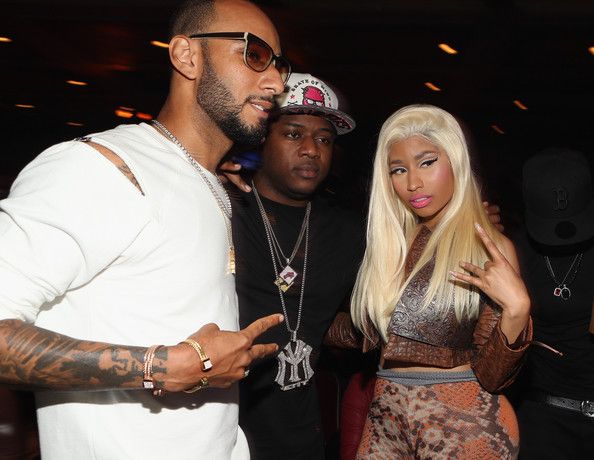 Swizz Beatz has released a new single, "Hands Up" featuring Rick Ross, Nicki Minaj, 2 Chainz, and Lil Wayne. Listen to the single inside and get the latest deets on Robin Thicke's"Blurred Lines" scandal and hear what Marvin Gaye III said about Robin's settlement offer.  
Producer Swizz Beatz has release his new banger "Hands Up" which features Rick Ross, Nicki Minaj, 2 Chainz, and Lil Wayne. Also, Swizz's wife Alicia Keys sings the hook for the new track.  A video for the single was shot earlier this year and is set to debut in a few days.
And congrats to Nicki Minaj who was chosen as BMI's "Songwriter of the Year." 
And in other music news..... 
This summer, we've been following Robin Thicke's "Blurred Lines" song which has seen its share of highs and lows.  On one hand, the song is the biggest song of the singer's career, but on the other, it's becoming big legal issue.  
We told you earlier that Robin had filed a preemptive lawsuit against the estate of Marvin Gaye, hoping to prevent them from suing him for copyright infringement....and now we know why!
Billboard revealed that Robin   offered the family of Marvin Gaye a six-figure settlement in order to preempt a copyright infringement lawsuit, but the family turned him down. THEN, Robin filed his own preemptive lawsuit, which made it seems as though he was simply protecting himself from a greedy family....but was that really the case?
Marvin Gaye III spoke to TMZ saying,
"There's a way to do business and a way to not do business. We're not happy with the way that he went about doing business let alone suing us for something where he clearly got his inspiration from at the least.  That's caused my family a lot of duress."
When asked by TMZ if he's going to sue Robin, he answered: "What do you think?"  Smh......it looks like the war is FAR from over.  
Photo via Getty