Reality tv star La La Anthony just launched the fall collection of her 5th & Mercer line. Get the deets inside and find out about Ameriie's science fiction novel.
La La Anthony (shown above last night celebrating the one year anniversary of Courvoisier Gold at Bootsy Bellows in West Hollywood) has launched the fall collection of 5th & Mercer (exclusively through SHOPBOP.com). La La says she created 5th & Mercer to combine the classic uptown style with more edgy downtown detailing at smart and affordable price points.
She added, "I wanted to share this line to give women a variety of options, whether it's a fun look with the printed sweatshirt or a more dressed up style with the pencil skirt. There is something for everyone in this collection and I'm so excited for it to launch!"
Her own makeup line, clothing line, reality show, film career....she seems to be getting everything she set out to get.
And in other celebrity news.....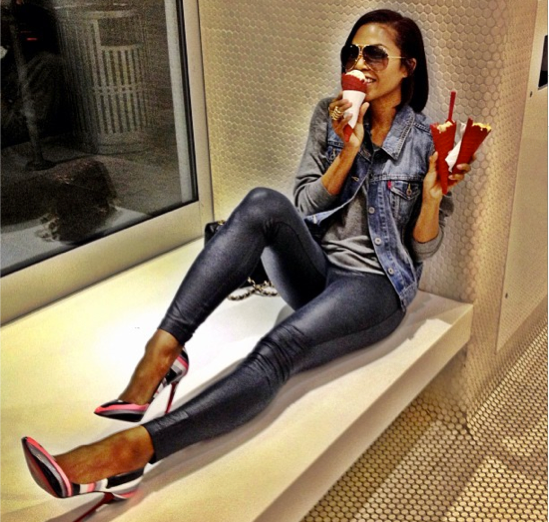 Singer & smartypants Ameriie is headed to a bookstore near you with a new science fiction novel. The "Everytime" songstress has reportedly signed a deal with New Leaf Literary & Media, Inc. and is expected to release her novel sometime in 2014.
Via the Good Read website, the singer confirmed her plans saying,"I received my B.A. in English from Georgetown University, and I am currently writing a Young Adult sci-fi novel".
And just in case you were wondering if she's taking a detour from music (meaning, more of a detour she seems to have already taken), she assured her fans that she will continue to record. "Meanwhile, I'm doing my best not to forget to eat, drink, or sleep. I also create music."
Photos via Ameriie's IG/PacificCoastNews