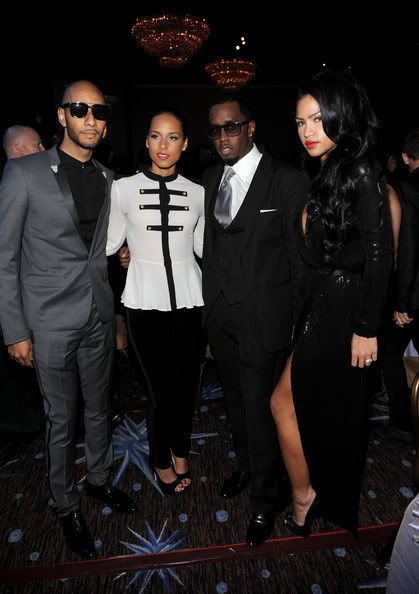 Last night, a who's who of the entertainment industry walked the rep carpet for Clive Davis' 2012 Pre-GRAMMY Gala and Salute to Industry Icons Honoring Richard Branson and Diana Ross.  See pics of Diddy, Cassie, Alicia Keys, Swizz Beatz and tons of other YBF folks inside............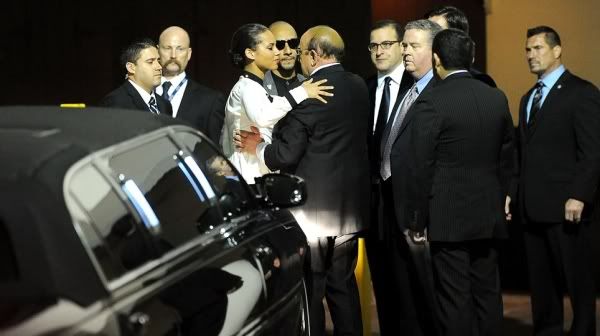 Though they had just been informed with the horrific news of Whitney Houston's death, Clive Davis (shown above arriving with Alicia Keys and Swizz Beatz) said Whitney would want the music to go on.  So celebs hit his annual pre-Grammy dinner at the Beverly Hilton Hotel, the same place where Whitney died in her 4th floor hotel room.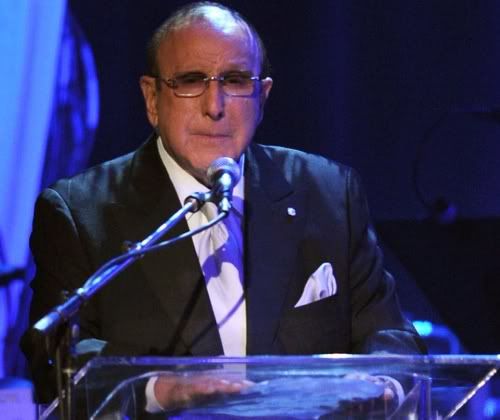 Clive gave heartfelt and difficult words to the audience.  We posted them HERE.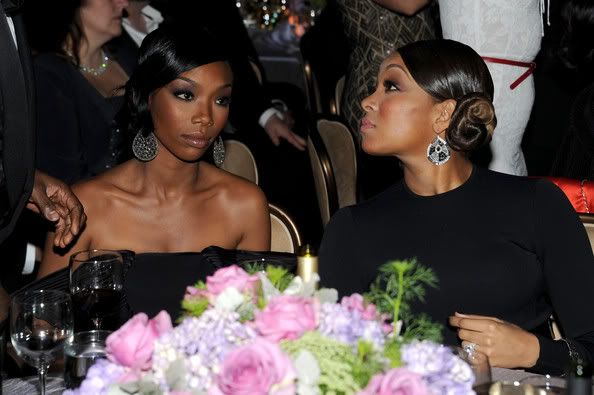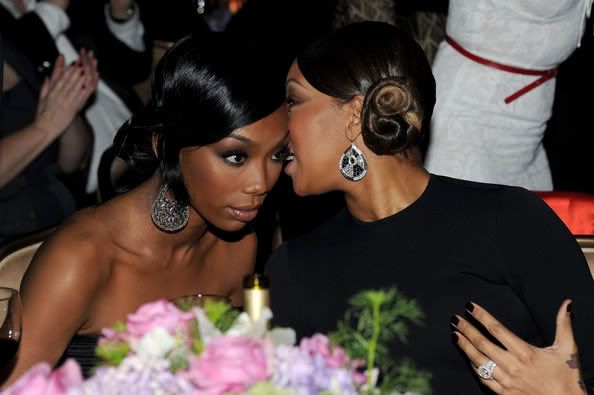 Brandy was spotted talking with Monica, earlier the two performed thier new duet.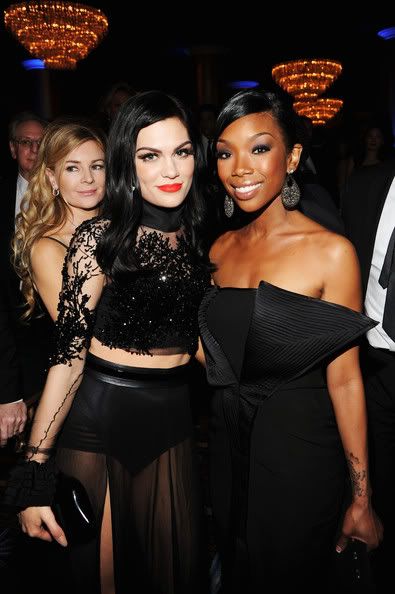 Brandy also posed with singer Jesse J.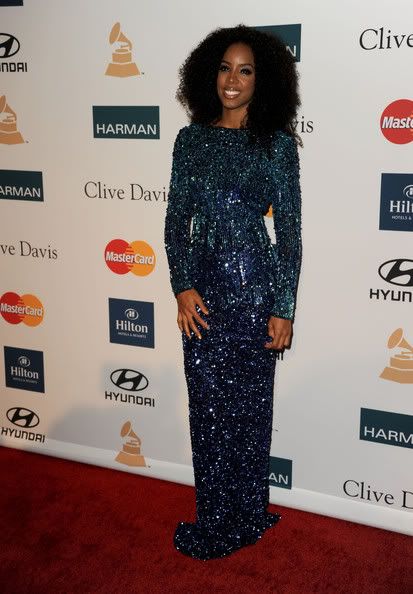 Birthday girl Kelly Rowland looked like she was paying homage to Diana Ross with her big hair and sequins.  Absolutely love this gorgeous multi-blue gown on her.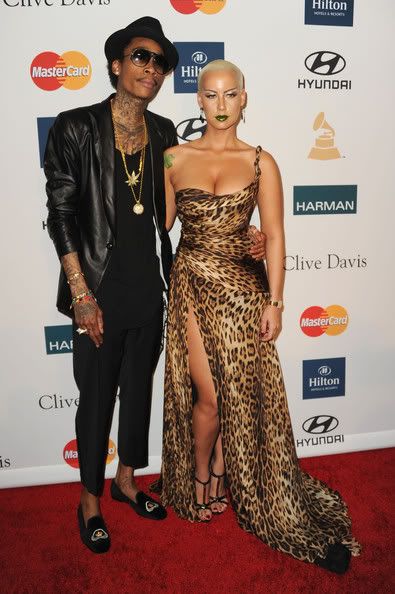 Wiz Khalifa (above) walked the red carpet with his boo thang Amber Rose, who rocked this animal print gown with a revealing slit.  And it looks like she was either extrememly upset by the Whitney news, or something else was going on.  Is that green lipstick to match the tat?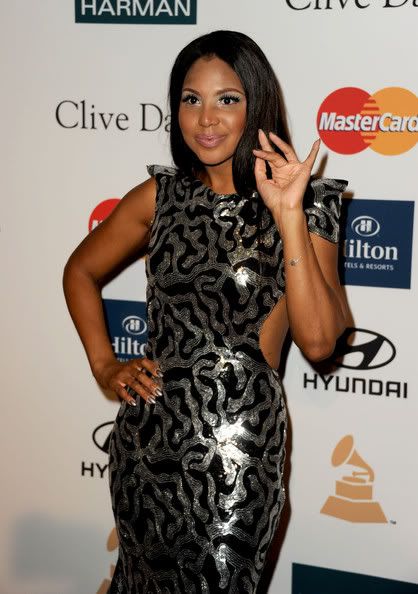 Always one to pull out a show stopping number, Toni Braxton worked this black and silver gown with a long train.  She's looking fab in her 40's.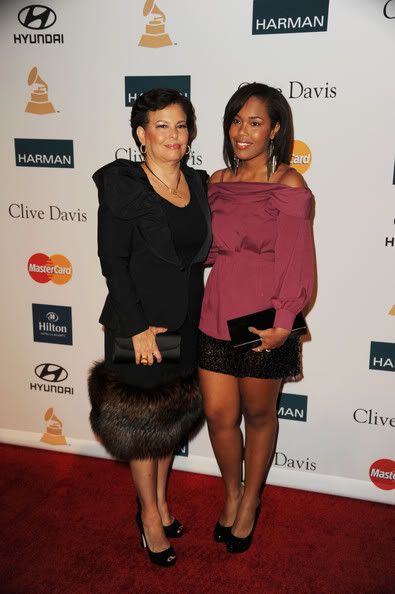 Debra Lee (who wore an interesting fur trimmed skirt) arrived with her daughter Ava. 


NeYo looked dapper in his red velvet sports coat.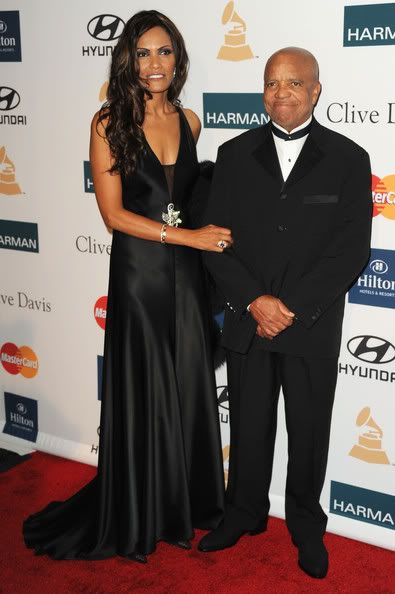 Legendary music icon Berry Gordy was in attendance.
Esperanza Spalding made an interesting effort with this number.  Not sure what she was going for but.......does this dress look like it was made of recycled materials?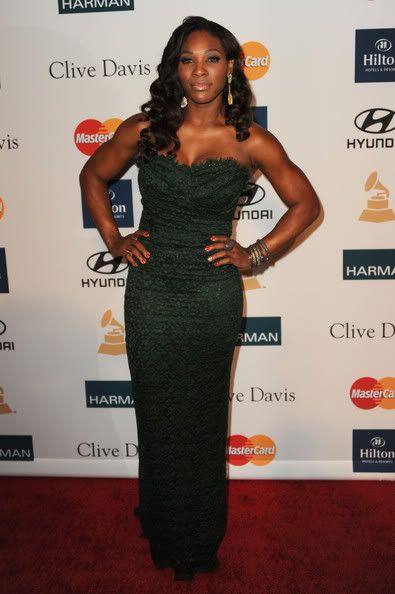 Serena Williams wore a simple emerald ombre strapless grown.
India.Arie rocked a white pantsuit.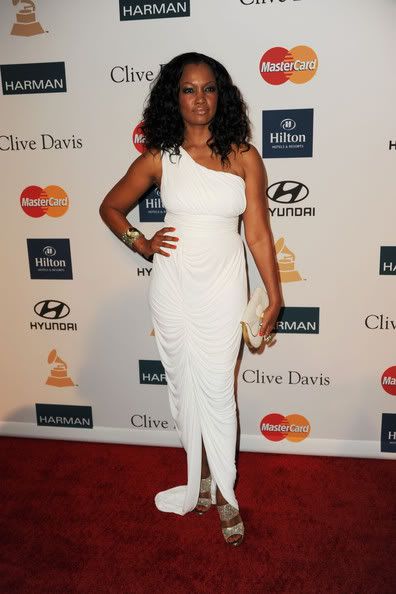 Garcelle Beauvais looked stunning in this white gown which she paired with a pair of sparkling sandals.  Going for the Grecian goddess look...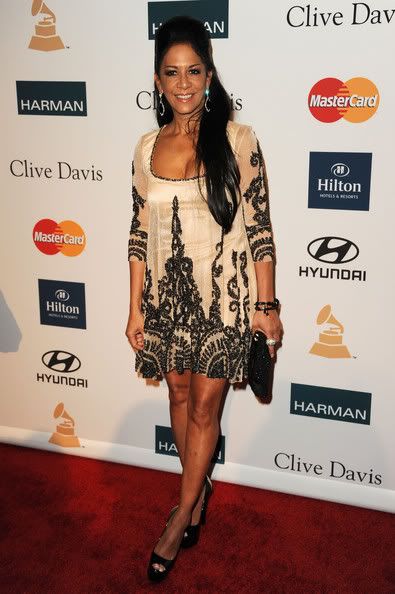 Sheila E does not seem to age.  Looking fabulous Ms. Sheila.
Shaun Robinson showed off her slim & trim figure in this fitted black number.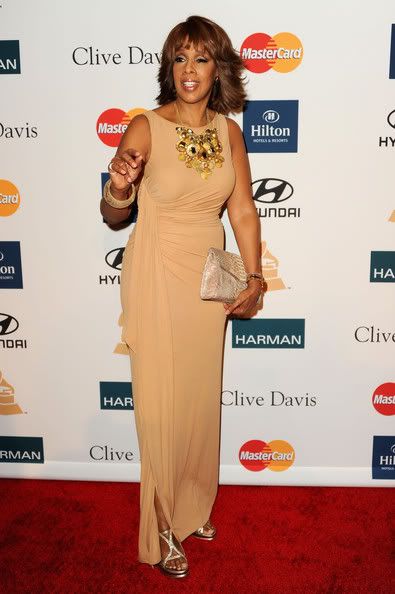 Gayle King --sometimes, it's all about the accessories.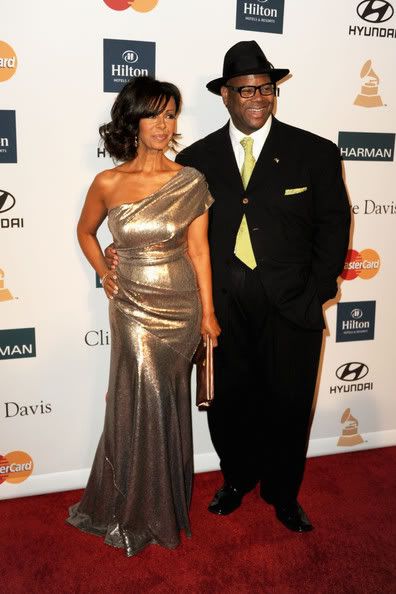 Jimmy Jam was there with his wife Lisa Harris.
And Gladys Knight also walked the carpet.
Miguel looked pretty dapper in his mustard colored suit.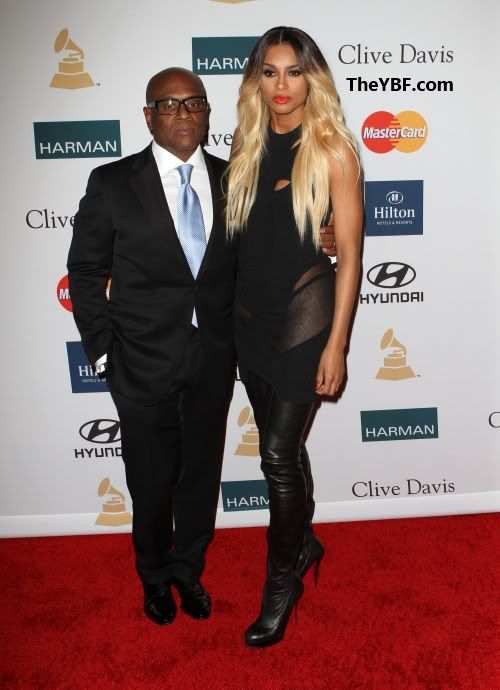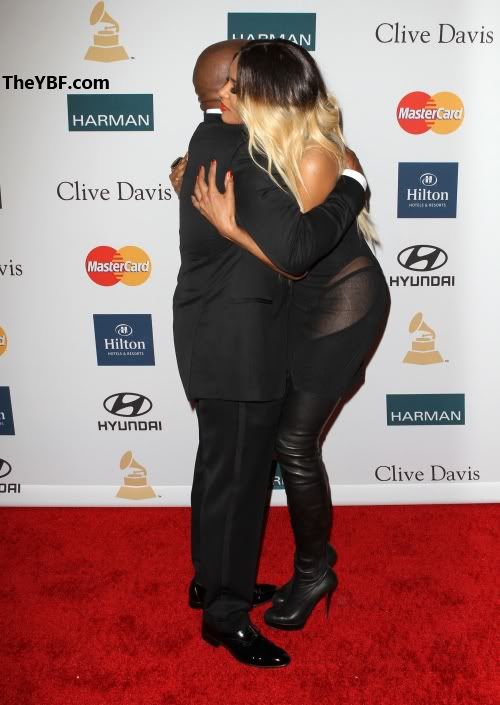 And Ciara stayed close to LA Reid, whom she hopes will salvage her career.  I'm actually loving the two toned bleached blonde and brown roots.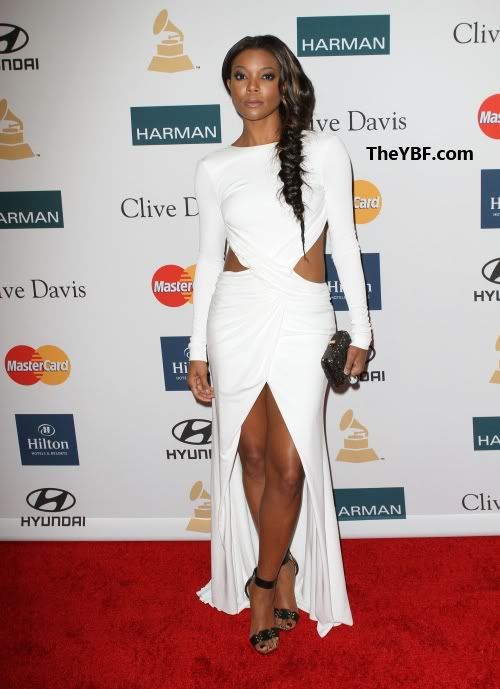 Gabby Union still pulled off this gown even with a serious mug!  She said on the carpet she thought the Whitney news was all a hoax--much like the emotions she went through last week with the Eddie Murphy hoax.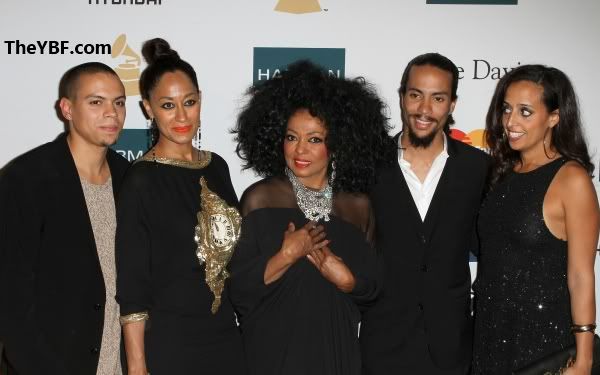 Diana Ross (who was honored) brought out her entire family (sans Rhonda). Hey Tracee!
And she caught up with mentor Berry Gordy.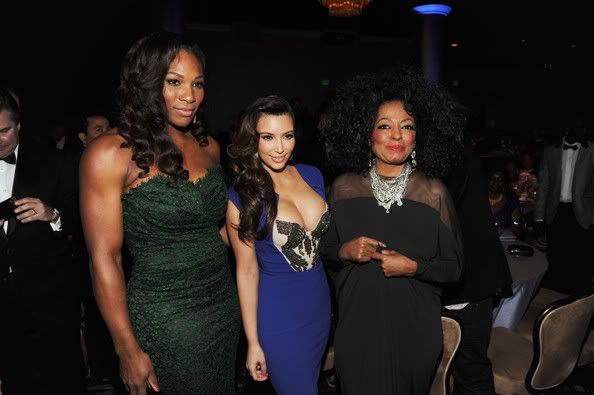 Diana Ross, who was also honored earlier in the day by the Grammys for her work as a solo artist and as one of The Supremes, posed with Serena and Kim K.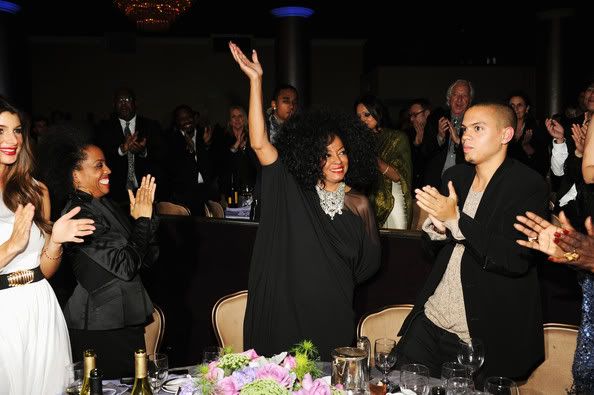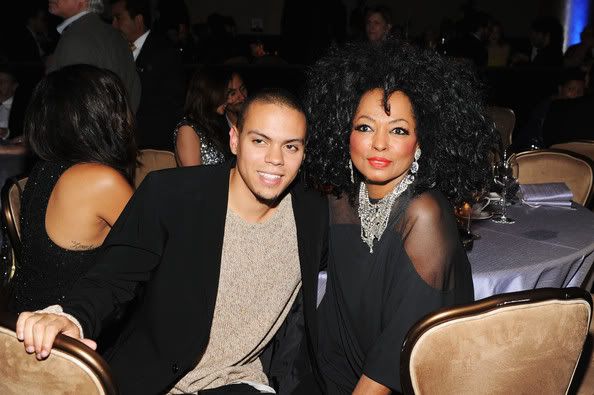 During his speech Clive said he told Whitney they were honoring Diana (shown with son Evan) at the party and he revealed that Whitney said, "Oh i love Diana!"  And Diana blew a kis to Clive after eharing that.  Sweet!
Here's some video of Diana talking about her honor and Whitney Houston: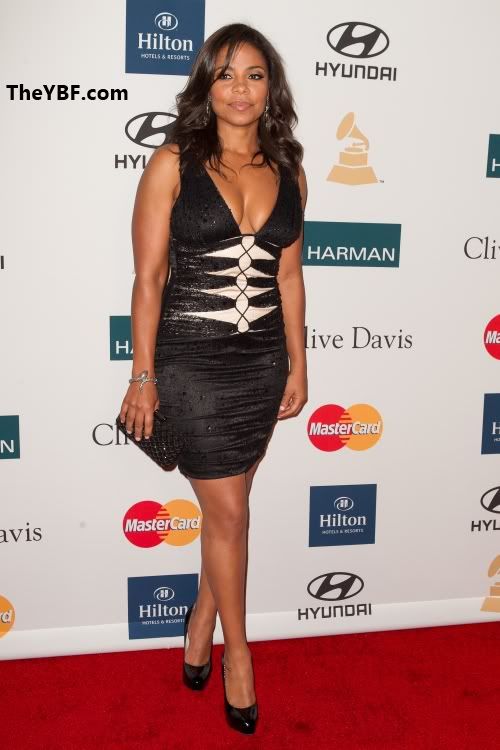 Sanna Lathan wore this black cocktail dress with a plunging neckline and laced bodice detailing by Julian Joyce for Mandalay.
Gayle King later caught up with Serena near the dance floor.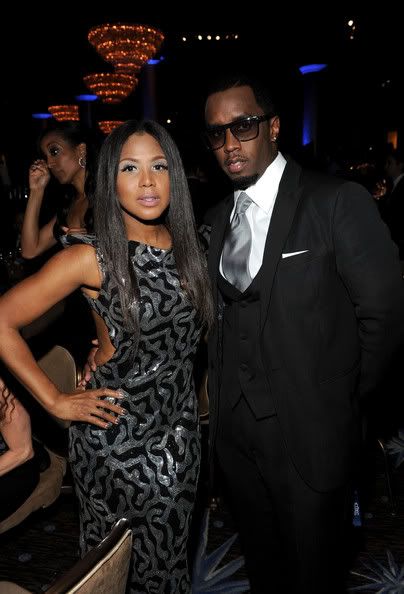 Diddy also hung out with Toni Braxton.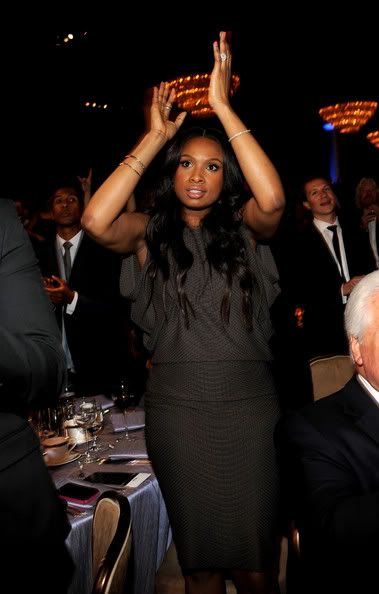 Jennifer Hudson (who will be performing a tribute to Whitney at the Grammys) was spotted clapping it up during the show.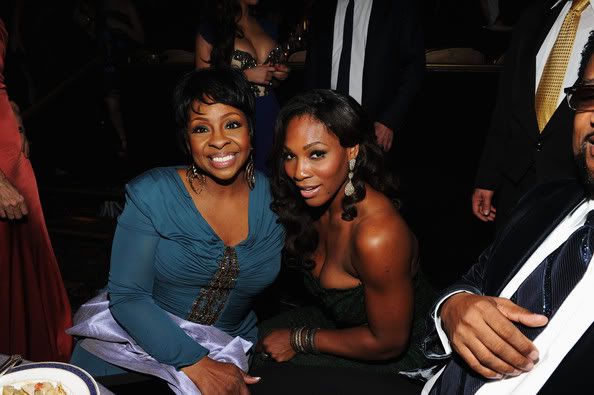 And Gladys chatted up friends.
Dr.Dre posed with the man of honor, Richard Branson.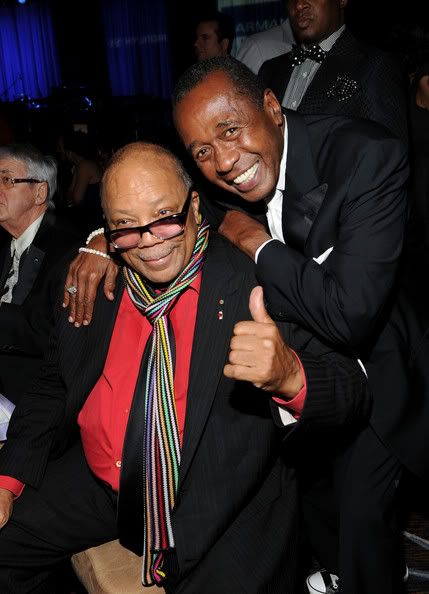 Ben Vereen was spotted talking to fellow legend Quincy Jones at the party too.  Such a somber light cast on such a fabulous event.  Catch the tributes and awards tonigt on The Grammys live on CBS.
Photos via Splash/WENN