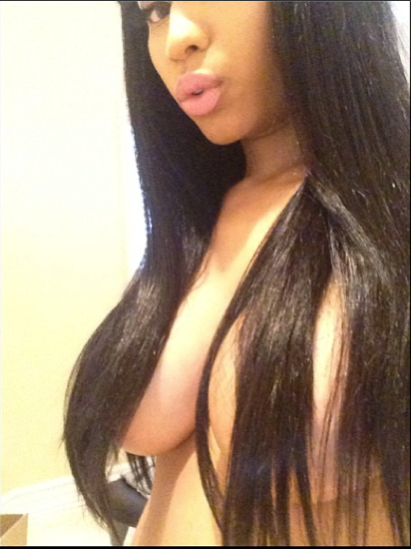 Nicki Minaj took to her Instagram today to exhibit more thirst boobs than usual for her Barbs.  Check out the attention grabby pic, which could also be called a late night snack, inside...
Well, Ms. Minaj clearly wants us to pay attention to her bare naked boobs.  So that's what we'll do.
The "I'm Out" rapper posted a topless pic with only her black wig covering her areolas.  And she only captioned it with a "fist pound" symbol when posting.
Not sure what made Nicki want to show us her boobs any more than she already does--outside of the obvious--but we do know she recently had some harsh words for another rapper.
At her MYX Moscato party last night at the Supperclub in Hollywood, Nicki was caught by a paprazzo who asked her about some rapper named Ransom who allegedly made a song about POSSIBLY ghost writing for her before she rose to fame.
So while she may have looked like a lady in her McQueen bodycon dress, her mouth was anything but ladylike.  Watch chick tell these rappers to get off her d**k below:
Photo: Nicki's IG