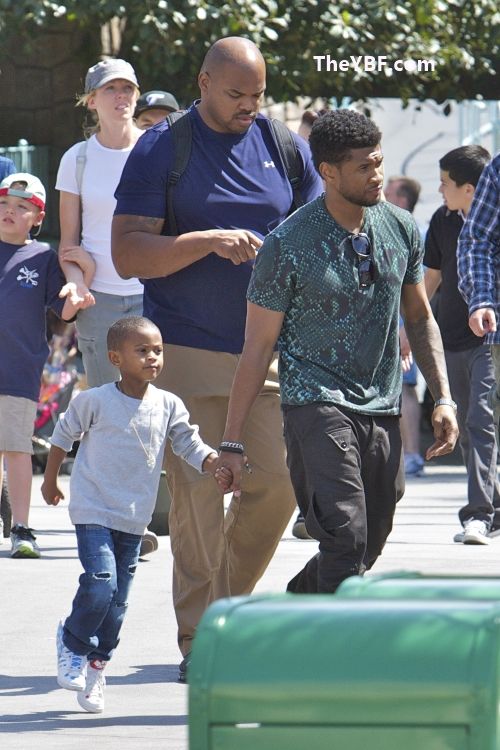 In frightening news, Usher's 5-year-old son Usher V is now in the Intensive Care Unit after a pool accident yesterday evening.  Details inside...
While Usher's oldest son Usher V was at the singer's pool in Atlanta yesterday after 2p, reports state his hand got stuck in a pool drain that he was attempting to fish a toy from.  And the adults on the scene (Usher was not home)--the boy's aunt, the maid and a couple of house workers--had difficulty helping him to remove it.
TMZ reports:
Here's what we know ... The child was playing in the pool with his aunt and saw a toy in the drain. He dove down to get the toy and his arm got stuck in the drain. The aunt immediately dove in to rescue him but couldn't get his hand out. The maid then dove in and tried but was also unsuccessful.

The maid screamed for help. Two men working in the house came out, dove in and freed the boy. He was given CPR immediately and rushed to the hospital. Usher arrived and drove in the ambulance with his son.
Cinco is now in the ICU with Usher & his mother Tameka Raymond by his side.  But doctors have reportedly said he will be OK.
No word on if Cinco could swim or if he was submersed completely underwater during the ordeal as pool drains are usually half way in and out of the pool toward the top. 
We wish little Usher V a speedy & FULL recovery.
*UPDATE* According to the 9-1-1 call placed by Usher's aunt Rena, Cinco may have stopped breathing from almost drowning, but started breathing again after one of the AV system workers from inside the house admistered CPR.
Photo: WENN