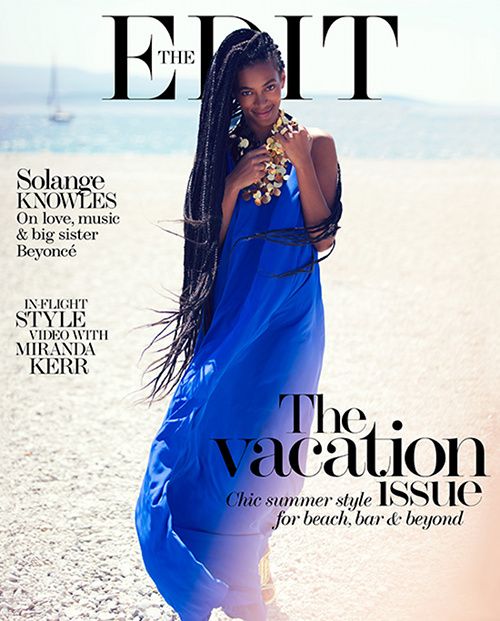 Solange Knowles covers Net-A-Porter's "The Edit" where she chats about her globe-trotting music career, standing outside of Beyonce's shadow and how her son is inspired by her work. See the spread inside....
Inside e-shooping site Net-A-Porter.com's digital magazine, "The Edit", Ms. Knowles posed for The Vacation Issue on the Croatian coast while modeling some of the summer's hottest beachwear. In the accompanying article, Solange talks about her road to self-discovery and her career-defining performance at Glastonbury.
"After my show I went from stage to stage, and ended up listening to music until 3am. Everyone let me do my thing. They acknowledged me but never interrupted my experience, which I really appreciated."
The True singer and style goddess also defines her personal style and talks about how her big sister Beyonce helped shape her as a performer.  Here are the highlights:
On her career:

"I'm having the time of my life. I have one of the best jobs in the world, and to be able to [perform] for an hour a day and make a career out of it, I'm incredibly humbled by it."

On defining an identity outside of her sister Beyonce:

"I don't think any part of myself as an artist has ever had a moment of…intentional execution. It's all just been an evolution. I've been able to watch such an incredible performer as my sister close-up. It's molded me. And now I'm letting my son watch me."

On style:

"Style in anything is very important. It's how we express our individuality, who we are and what we believe in. It's all a reflection of who I am."

On her & her entourage's hot style while performing at muddy Glastonbury

"That's just because we're Americans, and we didn't know the real deal – Glastonbury is not Coachella! [Laughs] We did not know the proper dress code....By the third hour there, I was wanting Wellington boots! It was amazing.  It's a really unique environment. Everyone was so incredibly spirited and happy to be there. I dropped my phone and someone came and gave it back to me later!"

On whether her brother-in-law Jay-Z or sis Bey (both who have performed at Glastonbury) gave her any pointers before performing


"You know, we actually never even talked about it. But both of them had such incredible, iconic Glastonbury performances – I was really proud of them. And I thought that Jay opening with [Oasis' song] Wonderwall was pretty kick-ass!"
And for the fashion heads, check out Solange's photoshoot with all the hot designer info below: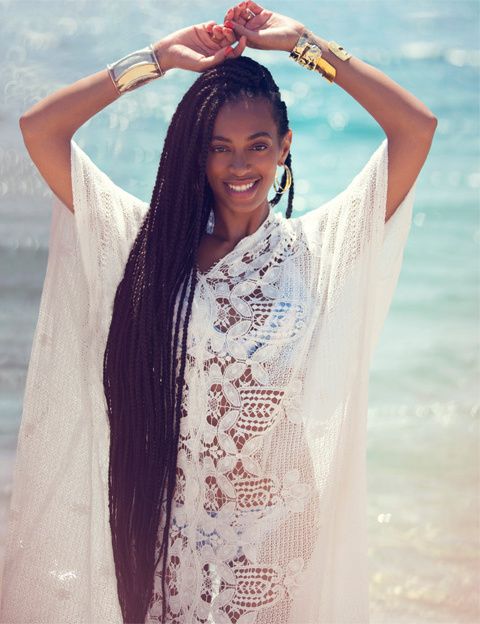 Kaftan by Miguelina; bikini by Lisa Marie Fernandez; earrings by Hervé Van der Straeten; cuff (right hand) by Anndra Neen; cuffs (left hand, from top) by Marc by Marc Jacobs and Hervé Van der Straeten; ring (right and left hands) by Chloé
Kaftan by Emilio Pucci; cuff (right hand) by Anndra Neen; cuffs (left hand, from top) by Marc by Marc Jacobs and Hervé Van der Straeten; ring (right hand) by Saint Laurent by Hedi Slimane; ring (left hand) by Chloé
Shirt by Splendid; skirt by Jonathan Saunders; necklace and cuff (left hand) by Anndra Neen; bracelets (right hand, from top) by Kenneth Jay Lane and Lulu Frost; ring by Saint Laurent by Hedi Slimane
 
Gorgeous shoot.
Photographs by DAVID BELLEMERE / Styling by TRACY TAYLOR