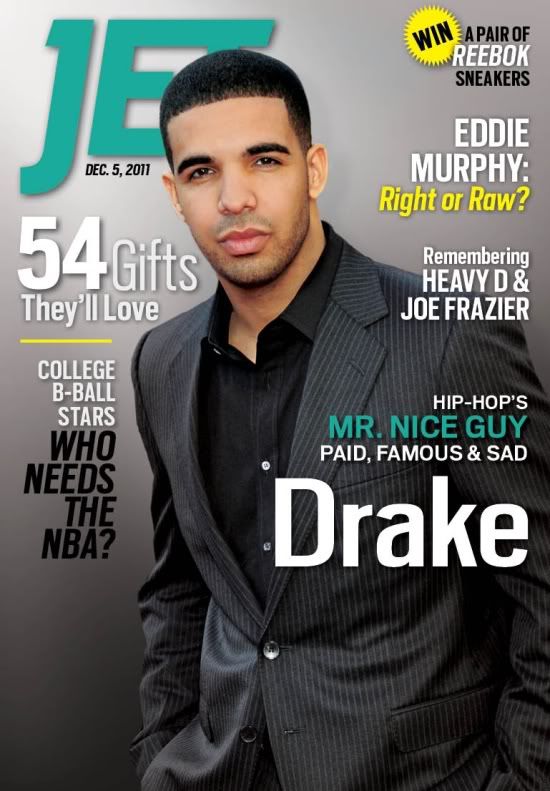 Drake covers the latest issue of Jet Magazine where he opens up about why he earned "street cred" in the rap game and what the Take Care album represents to him. Deets inside....
In the latest issue of JET Magazine (on stands Nov. 28) Drake talks about his place among hip hop's elite and why he is so well-respected among his peers.  Here are the highlights:
On respect in the rap game


"I think that it's evident that I'm myself, and I think people respect me for that across the board, he says. I get respect from the guys who are respected for being real rapper's rappers. I get respect from women. I get respect from mothers, fathers and kids. It's very humbling and flattering and incredible, and I'm honored to be in this position because I get to be myself. And I get a lot of love for it."


On using his music as a time capsule


"Music is the only way that I can really vent and tell my story. It's definitely personal. It's definitely very vivid, detailed, and I feel it's an incredible chapter of my life documented," he says. "All these albums and mixtapes are just time markers for me. Pictures and social media are great, but I think the best way for me to remember real feelings that I've experienced is to make music about it."


On what Take Care means to him


"So was he feeling a bit overwhelmed "Yeah, that's just the mode I was in. I know the album isn't the most energetic body of work in the world. I wanted people to be with me because my life isn't just one big party. There are moments I have where I'm by myself, and it's very reflective," he says. "I have a desire to come back and do some more aggressive music, because I truly enjoy those anthems and those moments as well. But I think this album is a great balance."


On moving on to the next album


"I think I'm very hard on myself.  I don't really give myself too much time to be happy or celebrate. Like this album, I'm very proud of it. People are giving me great feedback, but at the same time, I'm sitting on my bus already listening to new beats. I'm trying to figure out what I could do better or what my next move is. I'm obsessed with getting better."
By the way, Drizzy's new Take Care album released today is predicted to push 700,000 units this first week and come in at #1.  Rihanna is on par to move 200,000 units with her Talk That Talk album also released today.