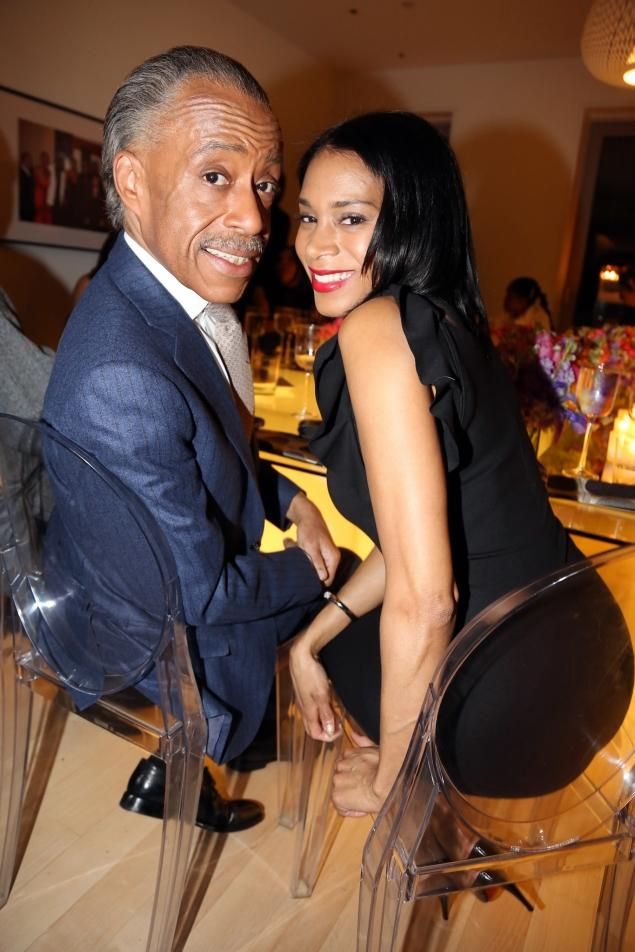 Rev. Al Sharpton (who's still technically "married") has responded to critics of his relationship with a much younger woman.  Find out what Rev. Al said inside....
Some folks (including us) have been raised their eyebrows at Rev. Al Sharpton, the civil rights activist turned MSNBC-star, who's been stepping out on the town with a much younger woman, 35-year-old Aisha McShaw on his arm.  
We never expected the 58-year-old tv star to let grass grow under his feet, but it's common knowledge that he and his wife Kathy Sharpton have NEVER divorced.  Though they separated in 2004, Kathy still has papers on Rev. Al.
But that has not stopped Aisha from claiming Rev. Al in public.  When the Daily News bumped into Aisha and Rev. Al at at the New York County Democratic Committee Award Ceremony a few night ago, they ask her about her relationship and she replied, "I'm his girlfriend." Of course Rev. Al ushered her away......quickly.
Now Rev. Al may not want the world to know the exact nature of his relationship Aisha (which is why he doesn't want her talking to press) but he did have a message for the nosey critics.
When Rev. AL found out that we were all a little concerned about his love life, his publicist, Rachel Noerdlinger, told RumorFix,
"His exact words to me were, 'Rachel, I'm not announcing an engagement or a marriage. Don't I have a right to date when my marriage has been over for a decade?'"
Rev. Al....you have every right to be boo'd up (especially if your marriage is over). We're just wondering why you and Kathy don't go ahead and complete that paperwork??!!
 Photos via Johnny Nunez/wireimage