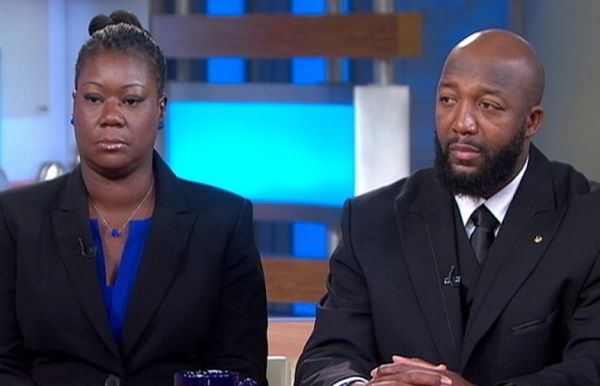 In one of their first interviews since the George Zimmerman verdict was announced, the parents of Trayvon Martin appeared on "GMA" this morning and revealed their "shock" and "disgust".  Watch the interview inside....
In one of their first public appearances since the George Zimmerman"Not Guilty" verdict was handed down this past weekend, the parents of Trayvon Martin, Sybrina Fulton and Tracy Martin, appeared on "GMA" in a heartbreaking interview where they discussed their feelings and thoughts since the trial.  Here are the highlights:
Sybrina on the verdict:

I really didn't believe that he was not guilty. My first thought was shock, disgust.

Sybrina on Trayvon's response to being followed by George Zimmerman:

I think people are forgetting that Trayvon was a teenager, so he probably thought as a teenager. I really do believe he was afraid because he did call George Zimmerman creepy. So he was afraid and if you are 17 years old and you are afraid, you may not know what to do.

Tracy on the verdict:

As parents, understanding how they reached the verdict, I'll never grasp that concept. Just as loving parents and God-fearing people, we just continue to pray that whatever was in their heart was what they intended to do. But we didn't feel it was fair and, of course, it was devastating.

Tracy on his son Trayvon:

I wish they really knew Trayvon for who he was and knew that he was a kid. They didn't know him as a human being, a very decent human being, a fun-loving kid. He loved kids. I just wish they had an opportunity to really know who Trayvon was and to put that in context with what their decision was.

Tracy on the apology George Zimmerman's parents offered:

There's no winner in this situation. Obviously, we are devastated more. I just think that all the circumstances surrounding books being written and the mischaracterization of us as parents, I just really don't feel that it's real sincere. But we continue to pray that we'll find peace and strength to be forgiving parents.

Tracy on going forward:

I think moving forward we need to educate ourselves as a community on the gun laws, on the laws, on the statutes. We need to come together more as a whole, not individual people, not individual races, religions. We need to come together as God's people.

We need to start learning each other, understanding each other. You can't just judge a book by its cover. Something is wrong in so many ways to say that someone is suspicious just because you don't know them.

Sybrina on moving forward:

It's not just about the Trayvon Martin case, Now it's about your kids. It's about other kids. What do we tell our sons?
Watch the interview below:
The two also appeared on "The View" this morning.
Photo via ABC News