Last night four-time Olympic Gold medalist Sanya Richards-Ross and her husband, two-time Super Bowl Champion Aaron Ross, celebrated the premiere of their new reality show "Sanya's Glam & Gold" with Estelle. See pics from the red carpet inside and watch an explosive Power 105.1 interview where Shay Johnson accuses her "LAHH ATL" co-star & enemy Erica Dixon of getting pregnant by a married man!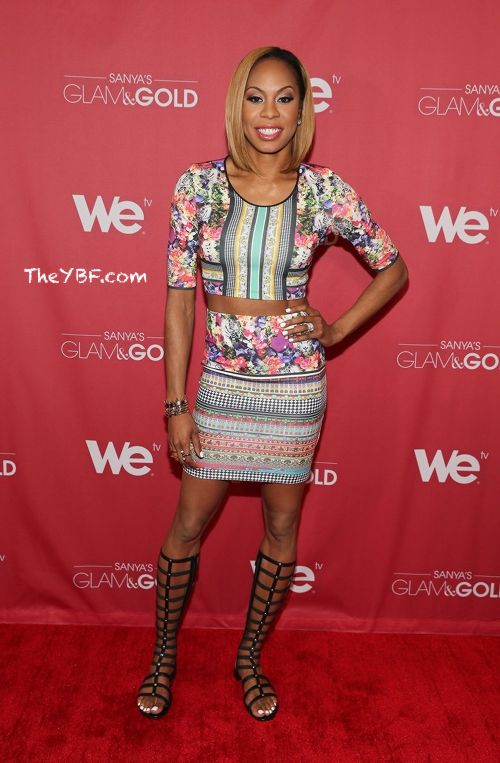 Last night, WeTV celebrated the launch of four-time Olympic Gold medalist Sanya Richards-Ross' new reality show "Sanya's Glam & Gold". The party took place in New York City as The Gansevoort Park Ave. Estelle (shown atop) was one of the celebs who came out to congratulate Sanya (who sported a crop top and strapped on her gladiator sandals for the event).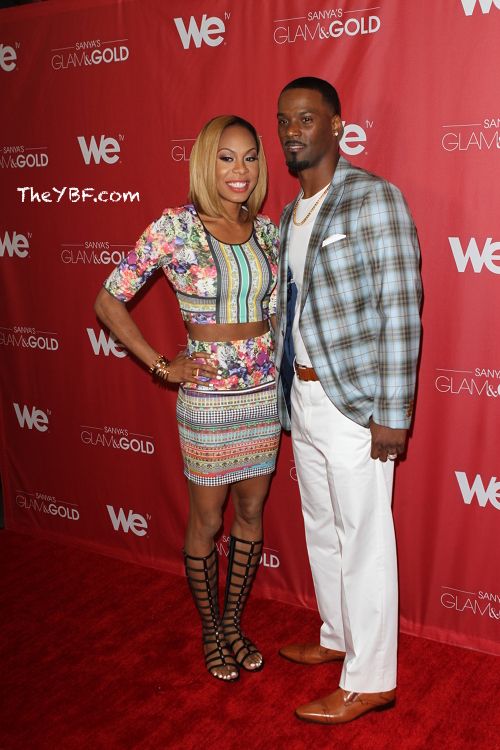 Premiering on July 25th at 10pm on WeTV, Sanya stars on the show with her husband, New York Giants cornerback and two-time Super Bowl Champion Aaron Ross.  The show chronicles their marriage and the bond they share as athletes.  And we kinda love a hard core athlete who still knows how to keep it girly.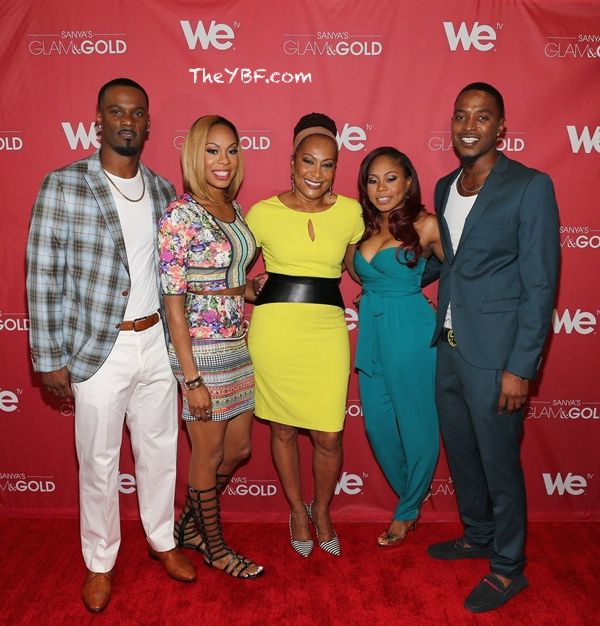 The couple's family and fellow cast members Sharon Richards, Shari Richards and Tyrell Gatewood were also on hand for the party.
Watch Sanya and Aaron discuss the show here:
And in "scandalous" reality tv news.....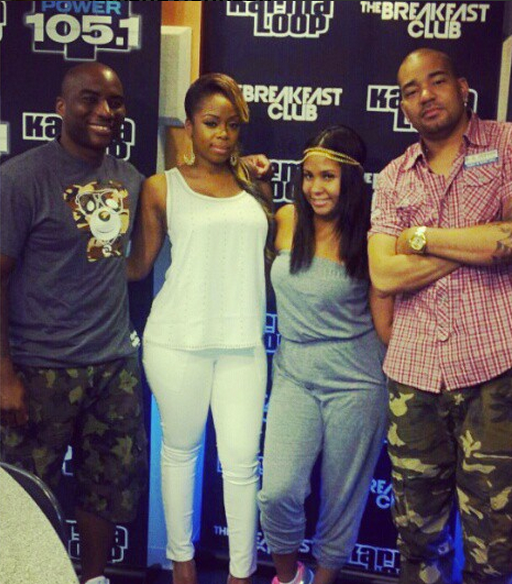 "LAHH ATL" star Shay Johnson stopped by Power 105.1 and spilled the tea on what went on during the "LAHH ATL" Reunion taping last week.  The most SHOCKING admission dealt with the on and off again relationship between Shay's former boo Lil' Scrappy and his baby momma Erica Dixon.
While Shay admitted that she wasn't supposed to reveal what went on at the taping, she let it slip (a little intentionally), that a some point, Lil' Scrappy confronted Erica about having an affair with a married man AND getting pregnant!  
So where's Erica's baby bump?  When DJ Envy asked if Erica had an abortion, Shay couldn't confirm it but simply repeated that Scrappy said Erica had been pregnant by a married man (at some point).  Here are the highlights:
On Lil' Scrappy confronting Erica:

He said she was messing with a married man and got pregnant by him, thats we what he said on the reunion.

On how Erica was the side chick...when Scrappy was with Diamond:

When he was dealing with [rapper] Diamond, she was his side piece, she's been his side piece for nine years. Erica was his side piece, Diamond was his main girl. He was living with Diamond, he was with her for five years and Erica was always opening those legs for him all the time.


On what she thinks of Kirk and Rasheeda's marriage and if she thinks Kirk is gay:

Kirk is wrong. I just really just wanted to jump through the screen and slap him.....I dont think he is gay. I just think he wanted to play and thats exactly what he did. I think there were issues that were going on that we obviously didn't know about, it didn't just start on television, they been together thirteen years.
Watch the interview below and hear Shay discuss Scrappy & Erica at (8:31) :
So far......neither Lil' Scrappy nor Erica have commented about each other on social media.  And we haven't heard Erica respond to Shay's interview......yet.
Photos via Neilson Barnard/Getty Images for WeTV/Power 105/Angela Yee's Instagram