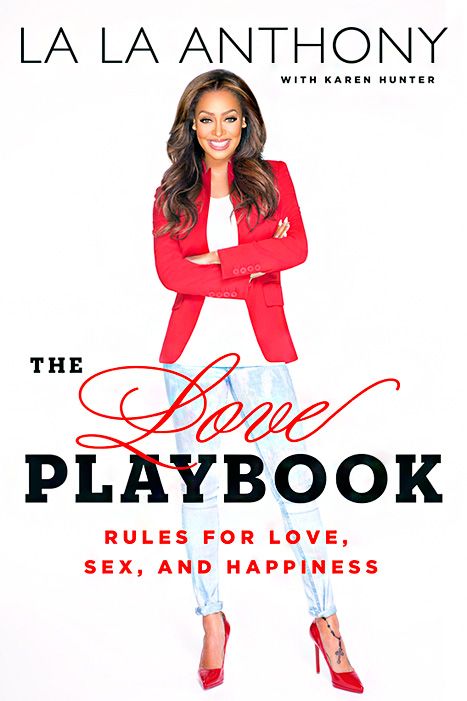 LaLa Anthony is ready to dish out some relationship advice.  Deets on her brand new book, Love Playbook, inside.  Plus, John Legend covers the new issue of UPTOWN magazine...
Just a few days ago, LaLa & Carmelo Anthony celebrated 10 years together and their third wedding anniversary.So it's only right the reality star commemorated the occasion with a brand new relationship book, Love Playbook: Rules for Love, Sex And Happiness.
Well, holding down a relationship for 10 years, with a kid and no matter how rocky, must mean you're doing something right.  Right?
La told Us Weekly, "I'm so excited to be sharing my insights on love and relationships.  I hope this book shows women that they can overcome obstacles in their love life and be truly happy!"
The mag reports that "the book chronicles LaLa's search for romance and offers hard-won advice about how to have a healthy relationship. Married since 2010 to New York Knicks player Carmelo Anthony, the star details the bad dates and backstabbing friends she had to overcome to get to where she is now."
The book was co-authored by Karen Hunter and will be released on Jan. 28, 2014, by Penguin Group publisher Celebra.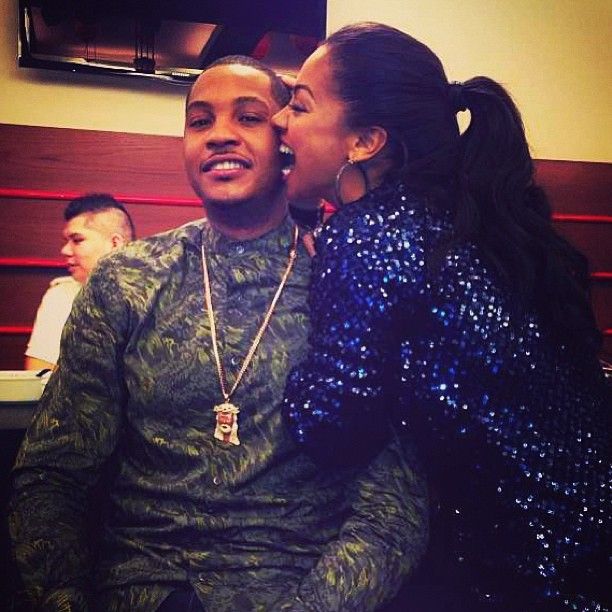 And about those rumors of her & Carmelo's relationship being on the rocks, she sent out a very sweet anniversary message on IG last week with the above pic.
Thank u guys for all our amazing anniversary wishes today. Together for 10years, married for 3. Nobody said marriage was easy but when u marry ur bestfriend it makes the ride worth it. Love u @carmeloanthony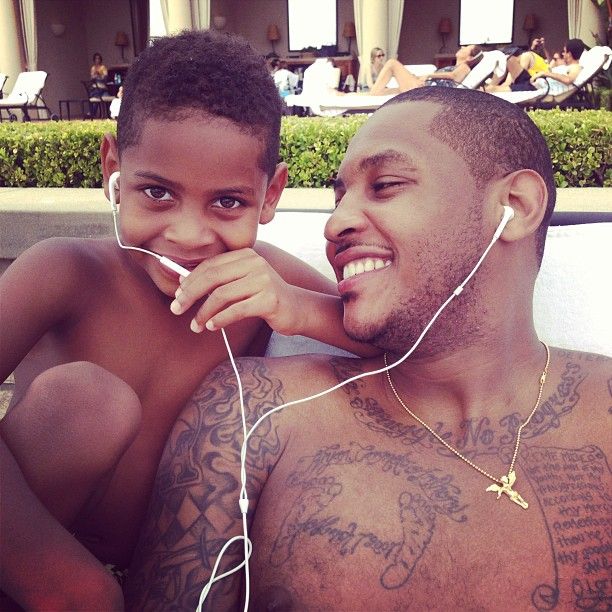 Cuteness.  Will you be reading La's love & sex advice?
And the soon-to-be-married crooner John Legend is covering the newest issue of UPTOWN magazine.  The Ivy League grad (U Penn) opened up more than usual about love, his fiancee and more.  Here's a few highlights:
On his & Chrissy Teigen's relationship
We got engaged in 2011 and we are getting married later this year. I am looking forward to having kids and growing old together. That's why we are doing it, because we intend to stay together forever. We have already been together for quite some time. It's been great. I have learned a lot about myself, and hopefully we will continue to grow.
On why he loves her
She is beautiful, smart, and hilarious. She has a great heart and we have great chemistry.
On rumors of them having a "fake" industry relationship
I don't really worry about it. During the early part of your career, you worry more about what other people say, especially when it comes to gossip. I am too old for that now. I feel very grown in a sense of knowing who I am and knowing what I want out of life and my relationships. I am just not bothered by random gossip that keeps Twitter and the Internet going. I know why it's done: People need stuff to post on their blogs. Let them have at it. You can't allow those things to define you and who you are. When you're 34 and you have been in this business for a while, you don't allow blogs and gossip to define you.
On the best part about being famous
Traveling the world, getting the acclaim and love from the fans. I enjoy it. It's nice to get a reservation at a great restaurant at the last minute. You can get into any club that you want to get into and have the red carpet rolled out for you. Everyone loves to be treated [like they are] special. Fame earns you that privilege. Of course, you lose things as well. But the good outweighs the bad.
On the R&B artists he actually likes
I work with Frank and really like what Miguel and Pharrell are doing. I am competitive, ambitious, and I always want to continue to be better and grow. There is room for me to grow artistically and reach more people. There is no shortage of motivation for me to keep pushing. I am not trying to defeat anyone in the business; I am just trying to be the best. It's like golf. Tiger Woods' job is not to beat anyone else, it's for him to be the best that he can be and if he is, he will win. I have already assumed some pressure taking the name John Legend. I have something to live up to. Frank, [producer] Hit-Boy and Kanye all push me to be the best I can be.
On what his family is like
I am a little closer to my father because we lived with him after my parents got divorced. I am close to my mother as well.
We still have issues dealing with that in our family. Both of our parents are still in all of our lives, but it's still complicated dealing with divorce. Obviously, I am not the only one dealing with that. It was one of the most difficult things to deal with as a kid, and some of the aftereffects I am still dealing with now. It's something that I have had to work through.
Check out the full interview with John & EIC Isoul Harris over at UPTOWN.
UPTOWN Photography by Matthew Williams, Lala's IG