Gloria Govan revealed mire about her "BBW: LA" drama and romance with Matt Barnes in a recent interview with web host Staci Harris.  And guess who tagged along for the interview....MATT!  Watch inside and get deets on new reports about Halle Berry & Olivier Martinez's engagement!
Gloria Govan recently stopped by Staci Harris' web show where she dished on "BBW:LA," the Kardashians (mainly going in on Kris Jenner), and her on and off again romance with Matt Barnes.
And guess who came to the interview with her......Mr. Matt Barnes! (The two are pictured above with the web show hosts.)  Guess we were right when we speculated last week the two were getting back together.
At the (4:26) mark, Gloria is asked about what happened during/after the "BBW:LA" taping with her split from Matt and HE chimes in saying "she was still giving up the a$$."  Classy.
Watch the interview here:
In other "couple" news......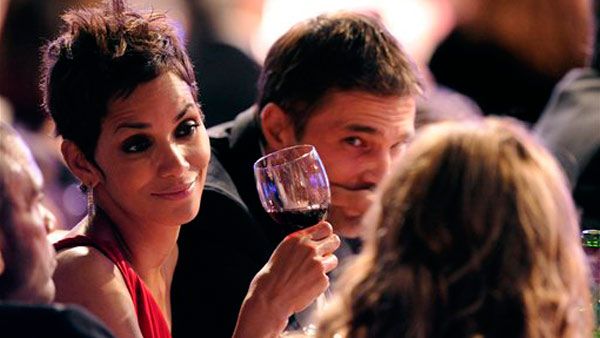 Earlier, reports surfaced that Halle Berry want to move to France with her daughter and her "boyfriend."  And people close to Halle originally shot down rumors they were engaged (rememeber this engagement news last month).  Well apparently the emerald ring is still NOT an engagement ring, but they are indeed engaged, according to TMZ.
Though they have not announced it publicly, new sources are saying that Halle and Olivier did indeed get engaged after the first of this year. 
The engagement would make sense as it would be weird to ask a judge to let you move your daughter away from her dad so you can shack up with your boyfriend in another country. Also, Halle has been receiving numerous death threats from stalkers and the move may indeed make her and Nahla safer.
This custody battle is a mess, but congrats to Halle and Olivier!
BONUS: Here's Halle & Olivier's new poster for their upcoming movie (where they met) Dark Tide which still doesn't have a release date: