Jay-Z stopped by Hot 97 today where he talked to Angie Martinez about his thoughts on the Trayvon Martin trail, Kaney's Yeezus disc and where he stands with Dame Dash.  Listen to the interview inside...
After doing a hilariously rule-changing & impromptu Twitter interview that trended worldwide a few days ago, Magna Carta Holy Grail honcho Jay-Z stopped by Hot 97 today to chat with Angie Martinez about his rule-changing CD and to open up about his relationships with his baby girl Blue, Dame Dash, Kanye West and to offer his thoughts on the Trayvon Martin trial.  And there's a few nuggets of wisdom in there for any aspiring entrepreneur.
Here are the highlights: 
On Trayvon Martin and the news cycle
"I was just watching the trial and man, it's strange how you can just see everyone's agenda when their talking about things.  CNN is almost like TMZ. Certain things it's like, aww man, this is really just entertainment. It's really all for ratings. And you squeeze a bit of information in there."

On how he was affected by his parents splitting up:
"They were together my early years, till I was 9 or something. That's what made it worse, because I knew. Some people don't even get to feel that sort of love at all so you can't miss what you don't have. It's still this empty feeling. There's more of an empty feeling having it, then having it taken away from you."

On being a father:
"[It's] just more reaffirming the things that's really important in life and editing your life in such a way that you don't have anything that's distracting you. Anything that's taking away from that time you should be with your child."

On failing:
"I fail all the time. I'm a person that loves to win. I don't hate to lose."

On if he reads blogs:
"Not that much, but once in a while, yeah. More music though, just music. Not like we worried about gossip. It's not my business."

On watching reality TV, including "Love & Hip Hop":
"I've seen everything at least once or twice. I'm really an ESPN, HBO guy."

On money:
"I just don't need money. … I think success is just being able to do what you like to do on your terms."


On buying back the rights to Roc-A-Fella:
"We just got it back from Universal. Thank you guys up there. The chain remains."

On Miley Cyrus' new musical style (since he shouts her out on "Somewhere In America":
"She's fearless, just being herself and expressing herself. I think it's more a reaction of people wanting her to be Hannah Montana. Just watching the situation, people want her to be something and she's like, 'I'm not that. I was 6-years-old, they want me to be 6-years-old forever.' That must be really frustrating, and this is her reaction to it."

On Yeezus:
"I love it...It's polarizing because it's art. That's what art is; it forces you to have an opinion. What's good for the genre is [Yeezus] pushes it forward."

On the possibility of Watch The Throne 2:
"Yeah. Hopefully, yeah. It hasn't begun."

On his relationship with Dame Dash:
"We created something that's going to go down forever, so I can only have love for Dame. I just don't know where we are in our life. We're not the same two men at that time when we gelled in that way. I haven't seen him in a while. I have ultimate confidence in him that he'll find his way because he's an amazing and smart guy."
Listen to Part 1: Part 2: Part 3:
BONUS:
Thanks to producer Young Guru, we now have the original version of "Dead Presidents 3", which he leaked on Twitter. Enjoy!
BONUS: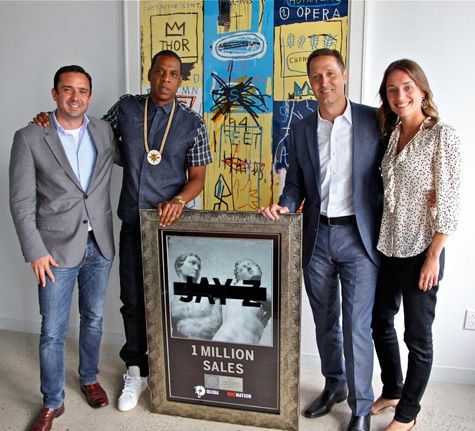 Though it "officially" hits music stores today, Jay-Z's MCHG has already been certified platinum thanks to 1 million sales of the Samsung Magna Carta app.  Story.