In the latest issue of Italian VOGUE, stylist Lysa Cooper provided an insider's perspective on working with some of the industry's biggest stars like Rihanna and Beyonce.  Get behind-the-scenes dish on what was really behind Rih's hairstyles and Bey's GQ cover inside and watch Kanye's unofficial video for "Black Skinhead"....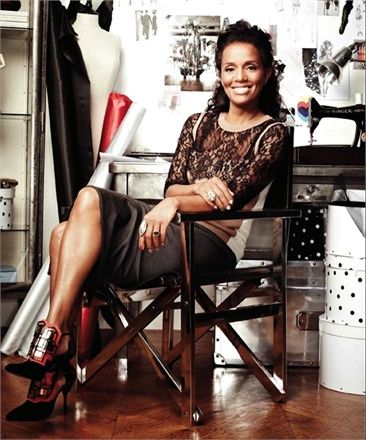 Lysa Cooper, a woman who's been at the forefront of celebrity styling for the past decade, sat down with Italian VOGUE to talk about working with some of the movie iconic artists in music, fashion and film.  In her raw and candid interview with writer Robyn Price, Lysa talks about how the industry has changed, how she's managed it, and some very candid moments with clients such as Rihanna, Beyonce. Basically, Lysa is that YBF chick who has zero f**ks to give...and is still damn good at her job.
Here are the highlights:
You were one of the masterminds behind Rihanna's image transformation (along with Ursula Stephen and others on the team) that helped propel her into superstardom. What was it like working with Rihanna on the cusp of her transformation?

I worked with her without knowing who she was. She was just some cute girl, and Ellen von Unwerth and I were shooting her. The one good thing she had was Ursula Stephen, who I knew. And so when I walked in, to tell you the truth, the only person out of her crew that I knew was Ursula. And I thought, Ursula is here, so at least I know the level I'm on. Then she wasn't working yet, with Mylah Morales doing her makeup. Mylah is one of the best in the business. Her hair was to here (shoulder length), and we cut her shit up to here (above her shoulders).

She had a lot of hair back then. And now, there is a lot of hair again. We'll get into that later. Everybody needs to stop with the hair, including Beyoncé.

So that was how I kind of connected with her. It was on a job with Ellen. They're all looking at me like "you don't even know who you're working with?" And I was like "no, I don't really care." She's cute. She's nice. She's an island girl. I had a good time. We did some really sexy pictures. I kept it moving. I'm not a big practitioner of staying too long. Her and Shakira were probably the two girls that I worked with for a long period of time. I'm more of a hit and run kind of a person. I like to hit it and run.

Why is that?

I don't know. That way you're not bored. That way you don't become somebody's slave. That way there are boundaries. And those boundaries got blurred with Rihanna. And with her previous management, we had some major falling out. Also, I'm a lot older than her. I don't entourage it up. I don't like to hang out like that. And when I do hang out, I hang out hard and I think that can be very intimidating to people who aren't use to the old way of partying.

What's the old way of partying?

Go out dancing all night long. You're not Instagraming every fucking moment. You're not smoking wack-ass weed with some bad blunts. Sorry. I smoke weed, but I smoke good weed. I feel like everybody is a little lost in the sauce right now.

But we're dealing with the number one artist, so that makes certain things more difficult and complicated. She is the number one artist, right? Is she ahead of Beyoncé? I can't really tell.

What was it like working with her (Beyonce) on the GQ Super Bowl-inspired cover?

Hilarious. So funny. Magazines now are so nervous. Everyone is afraid to lose their job. They've already planned every shot. Nothing is very organic anymore. They had an idea of what they wanted to do. And then Beyoncé told me that she didn't want to do any of that; so we didn't. And, what I loved, is that Beyoncé knows what she's going to do, and what she's not going to do. And what's she's comfortable with and what she's not. And I thought that was a very racy shoot for her. And I kept teasing her and saying that this is going to become the cover. It was amazing. And of course that's not what they wanted. They wanted some white t-shirt GQ bullshit. And I kept saying to her "Watch, this is the cover." And it was. And it was so cute. Little vintage shirt. And you know, they wanted to put their designers on it. And really at the end of the day, I think a lot of the way things are run now is about selling shit and they forget that they're dealing with personalities. She looked great.
Read the full interview here.  Lysa also served as one of the judges on Rihanna's "Styled To Rock" show in the UK.
And in new music videos.....
One of the celebs who also appearedo n "Style To Rock" with Lysa is Kanye West.
A CGI-version of Kanye's track "Black Skinhead" has been released to the web.  Though the clip is the first visual from Yeezus, it's interesting to note Kanye has tweeted, "The BLKKK SKKKN HD video that leaked yesterday was not the official version." 
The *unofficial* clip features a slightly hulk-like animated version of Kanye wearing a gold and bouncing around in what appears to be a boxing ring.  And his package gets a little air time as well.  Check out the clip above....
Photos via Vogue Italia