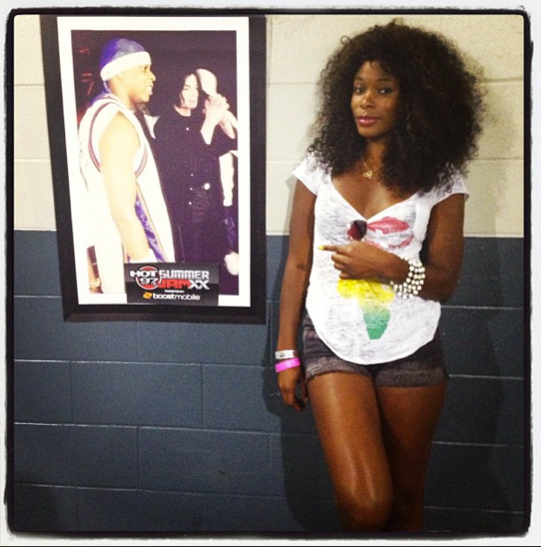 A few whammys were handed out yesterday to NYC's Hot 97 crew.  Not only did morning co-host K.Foxx make it known she was fired from the morning show, but the show she (and much of the radio crew appeared on) "Gossip Game" got cancelled as well.
Check out the drama involving Hot 97's radio programmer Ebro supposedly calling K.Foxx out for sleeping her way around the business inside...
Everyone knows about long time beef between NY's top radio stations-Hot 97 & Power 105.1.  Bt things got extra heated over the past couple years as The Breakfast Club at Power 105 took the #1 spot usually held by Hot 97's morning show.  So when K.Foxx, Cipha Sounds and Peter Rosenberg slipped to #2, and their program director (who has been known to get caught up in drama) Ebro Darden started chiming in with the co-hosts everyday, ish changed.
Fast forward to K.Foxx joining that VH1 show "Gossip Game" and some of Hot 97's radio drama getting exposed when Kay often got into it with co-star Angela Yee of The Breakfast Club, and also Ebro and the co-hosts appeared. 
Now, Kay has been abruptly "fired" after drama with Ebro and she's speaking out to EBONY magazine.
On her abrupt "firing"

In radio, they don't give you a two week notice because you could just go on the air and wild out, and say "F*ck you!" and all that. So they have you do a shift and tell you after your shift not to come back. It's not unheard of for you not know what's going on up till then.

On how her co-hosts, Rosenberg and Cipha Sounds responded

They're shocked. And confused...I'm a good person. I always came in to work I wasn't a bitch to anyone. I always smiled. Did lots of events. I was a team player. [DJ Funkmaster] Flex called me and he said: "You didn't deserve this. You rode for HOT-97." I wore that logo on my back.

On if VH1's Gossip Game reality TV show caused problems at work

I really don't know. I really don't know. I didn't know I had any problems at work. If I did, that's news to me.

On Ebro Darden saying "you've seen all the rappers' Johnsons" and that she "got your job" at HOT-97 by sleeping with someone--that you "slept your way to the top"?

I was thinking---is he saying that "the top" is HOT- 97? That's the top? For me it's not. So, I just think that when somebody says that they're just trying be malicious and hurtful and they just have no idea of who I am or what my story is. That's why it's so important for me to do interviews like this. Because you go through so many things, and you don't want to be a b*tch if you will and lash out but there are little girls who are looking at us.
One thing that I will say about it was that it was hurtful. Because the person that said it, my program director, is the one that hired me. And he brought me in and he knew that was not the truth. So why are you going to play with me like that? Why are you going to play with my livelihood like that?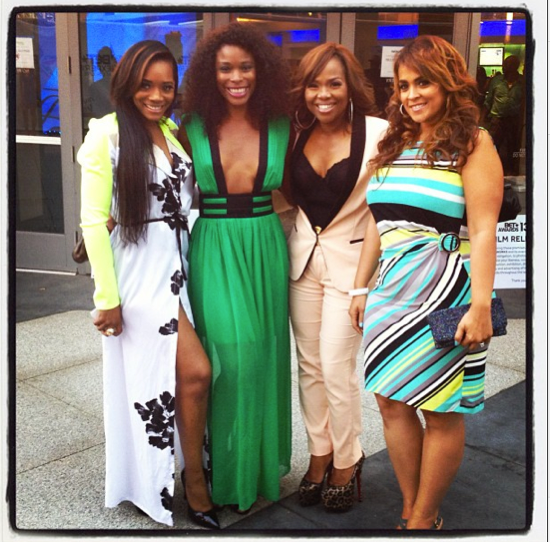 K.Foxx pictured with "Gossip Game" Exec. Producer Mona Scott Young, co-star Kim Osorio& "LAHH" star Yandy Smith at the 2013 BET Awards
Meanwhile, we caught wind of an email folks connected with VH1 and "Gossip Game" producers sent out to the co-stars of the show.  And the show has been cancelled.  There will be no new season.  Damn...ixnayed from a second season on VH1 of all places?  Interesting...
The Randomness:
1. The medical examiner has confirmed that toxicology reports prove Chris Kelly of "Kriss Kross" died of a drug overdose.   STORY
Photos: K.Foxx's Instagram