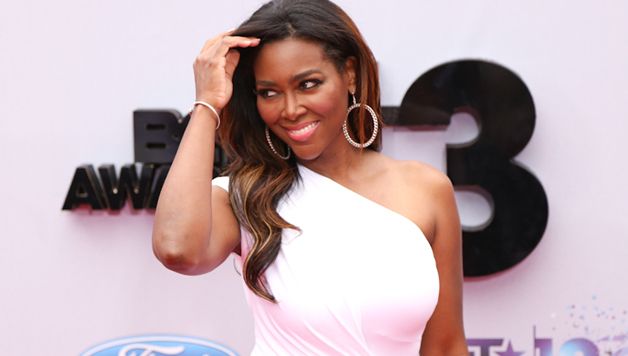 TheYBF.com got the latest on the ongoing drama with fab chicks like Kenya Moore (who was rocking Kandi's dress from the latest reunion show)...and we got some dish from a few of our fave artists and actresses on their upcoming projects.  Find out what Lala Anthony said about her bff Kim Kardashian and North West.  Also, watch Melanie Fiona sing the praises of Drake inside...
During the 2013 BET Awards, TheYBF.com was live on the red carpet with our L.A. correspondent Kourtney "K-Rich" Richard getting all in everybody's fashion and their personal business.
While on the red carpet, we spoke with rapper Rasheeda, who's very pregnant and dealing with some serious relationship drama with her husband and manager Kirk Frost (who was hiding in the cut until we called him out).  Though Kirk has spoken out about their drama, and we've watched it play out on "LAHH ATL", Rasheeda talk to us exclusively and gave us an update.  
"We'll just keeping it 100, I wouldn't even be here if it wasn't for the work that we do together as husband and wife.  So we have to work together to make everything work like it needs to.   We are......I'm making him work hard to get it back where it needs to.  He's really trying....."
Kirk chimed in, "I'm here supporting Rasheeda....just standing on the sideline and let her do her job.  I'm right here".
We also caught up with Lala Anthony who was fresh off the set of Think Like a Man Too. She talked to us about Kim Kardashian and her baby girl North West.
"I have not seen the baby becuase I've been in Vegas working and I haven't had a day off.  But I talk to Kim everyday and she's doing great."
And Canadian songstress Melanie Fiona stopped by and reflected on writing her hit song "I've Been That Girl" with Drake. When asked if they'd ever work together again she said, "I'd love to do a song with Drake.  I loved being able to work with him on the writing behind the scenes thing. Anything he wants to do on wax....I'm there."
Singer Luke James talked to us about going on tour with "The Queen" as he called her, Beyonce, and mentioned that his new single "I.O.U." (Remix) featuring Wale is out. (Check it here.) He's also starring in Black Nativity with Mary J. Blige and Jennifer Hudson.   
And we got to talk to a few of the Best Man Holiday cast about what to expect from the sequel!
Watch our exclusive red carpet chat with your faves below:
Video by Steven Baffo / On Camera Correspondent -- Kourtney Richard
Photo: HipHollywood.com