Before Beyonce even took the BET Experience stage Friday night, she was already on to the next thing...her "Grown Woman" video.  Check out her showing the rough cut to her D-Child gals, plus her hubby Jay-Z opening up more than ever about his fears with fatherhood...
A few pics leaked from Bey's dressing room backstage at the Staples Center Friday night.  She was spotted showing some "Grown Woman" video rough cut footage to Kelly & Michelle, this according to the person inside the room who snapped the pic.  Gotta love how they all still support each other.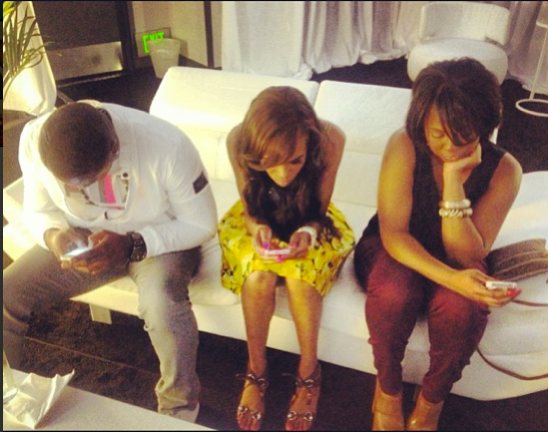 Everyone was on their phones while Bey got dolled up to hit the stage.  And it looks like we're going to get that video sooner than we think.
Meanwhile, Bey's other half Jay-Z opened up in yet another Samsung Mobile mini video about his upcoming Magna Carta Holy Grail album.  And this time, he fought back emotion while explaining the double meaning behind his "Jay-Z Blue (Daddy Dearest)" track.
Blue Ivy's dad explained how him not having his own father to teach him how to be a man, makes him fearful of fatherhood and being the best daddy he can be.  He also talks about the changes in his & his wife's relationship...and how he never wants them to go down a road that causes them to have to juggle joint custody.
Jay tells Rick Rubin in the video:
"...Something that we both created.  We still marvel at her. It's most obvious on a song called 'Jay-Z Blue,' and it deals with my pop left when I was young so he didn't teach me how to be a man nor how to raise a child or treat a woman. So of course, with my karma, the two things I needed I don't have and I have a daughter. It's the paranoia of not being a great dad."
Sweet.  Check out the lyrics below:
P.S.  That massive concert Jay wanted to shut down Times Square to do...he got special permission from Mayor Bloomberg to shut down Broadway (the street) in the Theater District.  And he'll be performing atop the Ed Sullivan Theater.  STORY
Photos: @itsjrock's Instagram