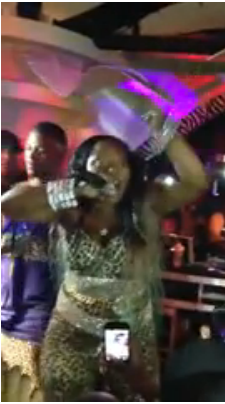 The foolery never stops. And even though we will always love us some Fox Boogie Brown, she totally let us down with this major ass whoopsie. Check out Foxy wiping out completely on stage making her show come to a halt, plus Khia flashing her chi chis for all the Twitter World to see...
So Foxy hit the stage last night...somewhere...to perform her new song "Bandz Up."  (Just roll with it.)  The Don Diva hopped on that stage extra crunk and started to get the crowd mad hyped.  And then, ish went left.  Or down to be exact.  Foxy seemed a bit....on an overly happy edge is the best way to put it...as soon as she came out.  Not sure what was going down backstage--liquor or some other ish--but it seems to have led to her completely falling down on stage while doing a whole lot of moving around.  In this cheetah catsuit.  And sparkly belts.  And sparkly mini purse.
Peep the video below:
Not sure if she ever completed her performance, but from the looks of how it took 10s of men to help her off stage while the DJ killed the music...it didn't look promising.
We just want Foxy to win.  But the struggle is real chile...
Fox took to her Instagram to let the fans know she's OK and that her mic stays "cocked", as she put it. She also posted this: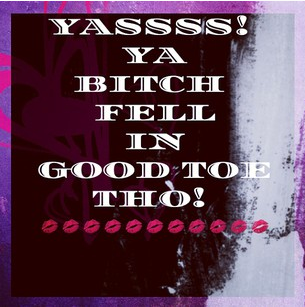 And in other rapstress news, Queen Khia was back at it via her Twitter this weekend.  And her chi chi filled Twitpic had the Twitter world all abuzz.  She posted this straight from her bathtub:
Her girls (who she calls Kate & Ashley) were wishing everyone a Happy Friday.  At least that's what Khia says her boobs were doing.
Sigh.
Video: DDotOmen, Photos: Foxy Brown's Instagram, Khia's Twitter