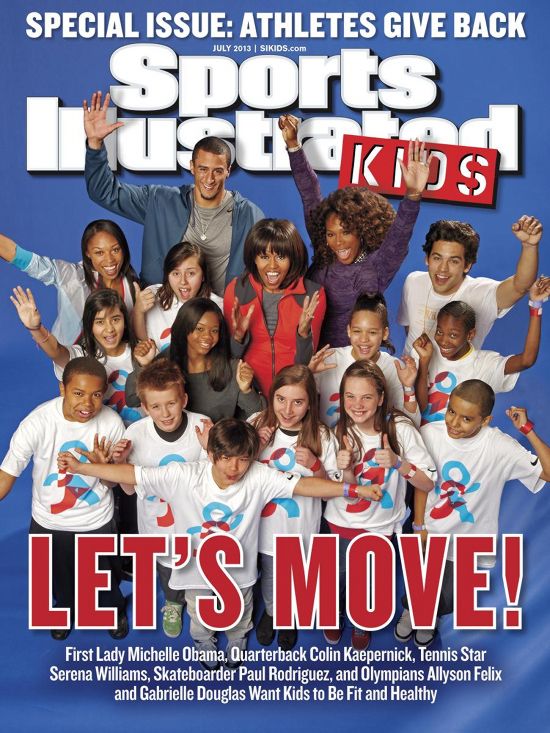 Our First Lady and a few of our fave celebrity athletes are gracing a brand new special edition of Sports Illustrated KIDS.  Check out their cute Let's Move cover inside,
After launching the "Active School" portion of her Let's Move campaign this past February, First Lady Michelle Obama brought in 49ers QB Colin Kaepernick, Tennis Champ Serena Williams and Olympians Gabby Douglas & Allyson Felix as great examples for the kids.  And they're all rocking the cover of a special edition of Sports Illustrated Kids with school kids.  
FLOTUS says in the issue:
There are a lot of kids who shy away from activity because they think, "Well, I'm not coordinated." But the truth is that movement is pumping your arms, it's dancing, it's touching your toes, it's identifying your physical strengths and not comparing yourself to your classmate, because we are all different. So we want to make activity fun again for kids in schools. Let's Move! Active Schools is an initiative to find champions
throughout schools.
Nice!
And this week, the Obamas traveled to Africa for their first official trip to South Africa, Senegal & more.  So First Lady Michelle marked the historical occasion by kicking off her brand new Instagram account with pics and video straight from the trip. 
She's giving the world an inside look into what the Obama family is experiencing, and the fabulousness the different countries are exuding to welcome the First Fam:
Her very first pic from the six-day, three-country tour was a cell phone shot of her smiling with a group of young women from the Martin Luther King all-girls middle school in Dakar, Senegal.  Her daughter Malia& niece Lesley are also in the pic.
She said, "My first instagram! So inspired and so impressed by these extraordinary young women. -mo #FLOTUSinAfrica"
The fab First Lady traveled to different schools and places to meet the people of Senegal: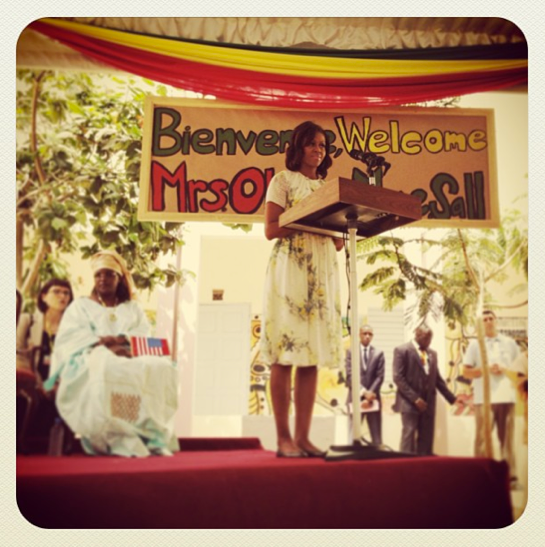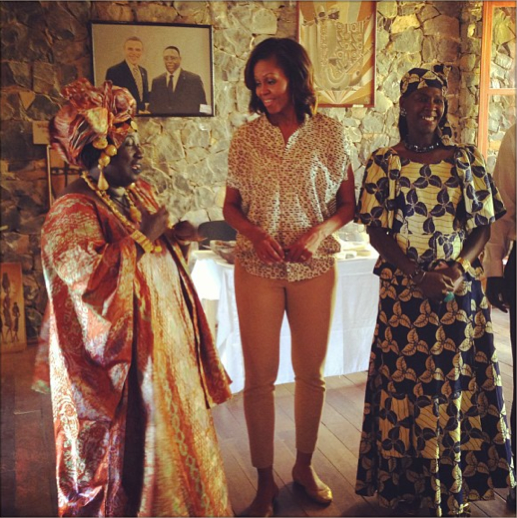 Loves it.  She and Prez O. also met with the country's head of state yesterday at the presidential palace in Dakar--Senegalese President Macky Sall and Senegalese First Lady Mariame Faye Sall: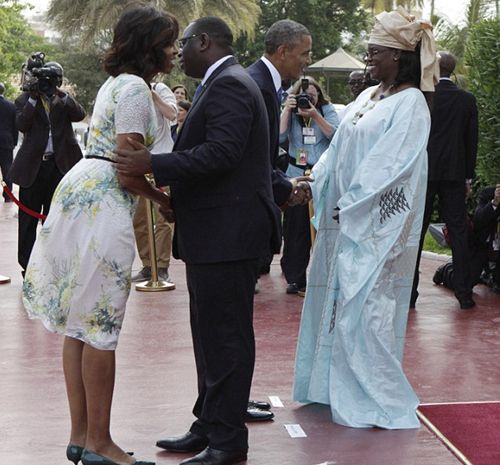 Fab!
Photos; Michelle Obama's Instagram/White House.gov/AP