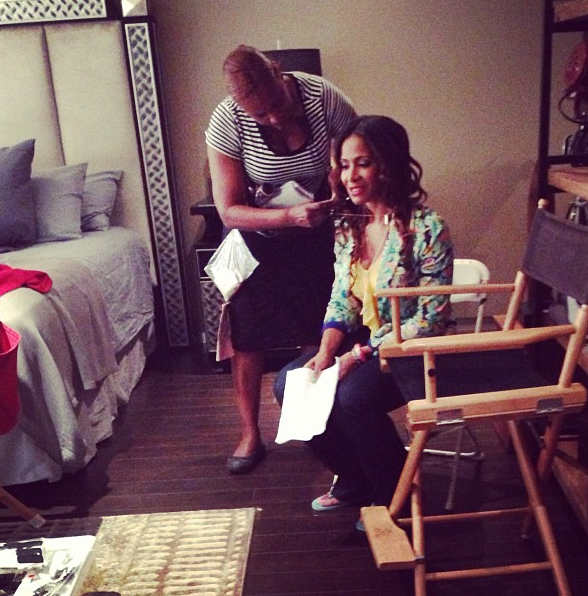 It looks like Sheree Whitfield is "going Hollywood" with a new role on the USA series "Necessary Roughness".  Get the deets on Sheree's new gig inside and see what Kenya Moore had to say about her recent eviction.  
Former "RHOA" star Sheree Whitfield seems to be taking her acting seriously (well as seriously as she can) as she's posted a few pics from the set of the USA series "Necessary Roughness".
Sheree has been cast to star in a series of webisodes called "TK Gets Real".  In six episodes of the interactive web series, Sheree plays herself and sets out to teach football player TK (played by the sexy Mechad Brooks) how to prepare himself for reality tv.
Sheree tweeted,
"Hey guys, join me while I watch @necroughness and make sure u catch Nico's webisodes u might see a familiar face. Live 2night at 10pm est #RealReality #NecessaryRoughness #IamSheree"
Congrats to Sheree!  Wonder how Chateau Sheree is coming along.
In other ATL news......
We told you previously about "RHOA" star Kenya Moore being evicted from her home and now she's speaking out.  This morning, Kenya called into "The Wendy Williams Show" to share her side of the story.  Here are the highlights:
On the eviction:
"So first off, I want to go back to the ruling. First of all, we never got notice of our court date so that's going to be overturned and we'll have another court date, so it isn't over until the fat lady sings.  Secondly, this is absolutely absurd! I've paid this woman nearly $52,000 in rent and she has a $6,000 security deposit of mine. I have paid her May rent and paid her June and my lease is up in three weeks, so this whole thing is absolutely ridiculous."
On almost having to get a restraining order on the landlord:
"When I didn't move out when she wanted me to (she had to give me 60 days notice) it was like everydyay she was coming in and out of the house. I almost had a get a restraining order against her."
On her landlord being jealous:
"I don't know if it's necessarily so personal. She's taking her ex-husband (back) to court. I can't help I live a fabulous life and she can no longer afford to be in the house."
Sighs.
Watch the interview here:
Photos via Sheree Whitfield IG/Jason Merritt/Getty Images North America