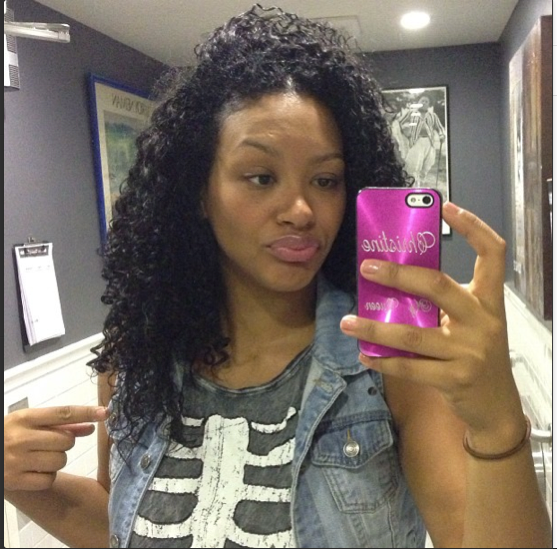 Dwight Howard is a baby's daddy for the 3rd (or 4th) time.  There's at least 2 other women said to have or are about to have his baby. 
As of yesterday, singer Christine Vest...who plays the innocent Holy Roller card much like Dwight....just became his newest baby mama.  Deets inside on how Royce Reed called them out, and how Christine prevented Kim K. from getting the maternity suite she wanted...
While fitness queen Hope Alexiswas being exposed on the internet streets back in February for secretly having Dwight Howard's baby girl (who is now a toddler), there were rumblings that Dwight had another baby on the way with his secret girlfriend Christine Vest.  We first posted about her dating Dwight in June 2011.
And it looks like all is true.  Neither Christine nor Dwight have confirmed they are dating or have dated (if anything, Christine has issued some subtle denials). And all of a sudden, a few weeks ago, she posts the above pic of the twosome hugging with the caption--"My favorite place in the world."
And yesterday, Dwight's original baby mama, Royce Reed, blasted the two on Twitter with the above pic.   First, Christine tweeted, "Im happier than i've ever been."
Then Royce responded while trying to sound nice & congratulatory--while we all know she was doing nothing but being low key messy.  She said, "Congratulations to Dwight & Christine on the birth of their baby boy! Bray has a baby brother!....I hear wedding bells in the future!!!" 
Neither Christine nor Dwight said anything publicly about the baby....and we ALL know Dwight & Royce do not have a good relationship after he tried to sue her multiple times and was one cause of her getting kicked off "Basketball Wives".  So, of course, her message sounded like subtle shade. 
Still, Royce says she was only being nice, "Why some of y'all trynna make drama out of a joyous occasion? If u found a congratulatory message messy check yoself! I'm blunt I don't sub!
Yeah...OK Royce.
For several months now, the guitar playing singer (who is like Taylor Swift meets gospel) hasn't posted many NEW pics of herself.  Her fans have gotten suspicious and have asked questions that she's avoided.  But it looks like the reason is INDEED because she was pregnant...out of wedlock. 
Despite Dwight never acknowledging any of his kids outside of Braylon (his son with Royce), it's pretty clear this dude is slinging his piece in anything he can with no protection.  And continues to do so 3+ baby mamas later. 
Hope he gets the NBA contract he wants next season because this child support is about to get mad expensive...
BONUS: TMZ reports that Kim Kardashian didn't get the maternity VIP suite she wanted at Cedars Sinai Medical Center (she DID deliver 5 weeks early afterall).  And it's all because Dwight's baby mama (who the site did not name but we know it's Christine) was occupying the suite.  Dwight blocks on the court...and off.
Photos: Christine Vest's Instagram