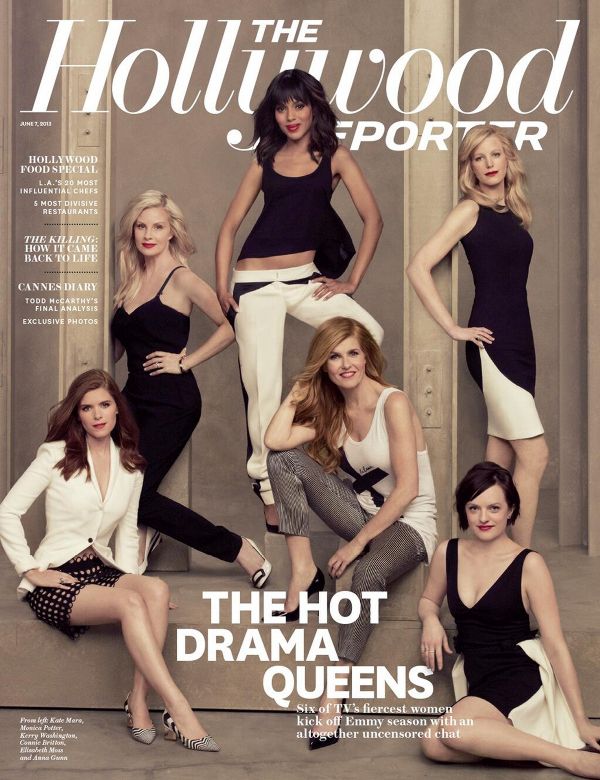 For the second time this year, Kerry Washington is featured in The Hollywood Reporter.  And in the new print issue, she's grabbing all the attention on the cover with the "Hot Drama Queens."  Check it inside...
After her big feature earlier this year with her stylist Emily Walsh for THR's Top 25 Stylists Issue, our favorite Gladiator has nabbed the cover amongst 5 other top tv Drama actresses.
"Scandal" star Kerry Washington is taking over Hollywood with much deserved accolades after a record breaking season finale.  And chick is topping the rest of the Hollywood IT girls...both literally (for the cover) and figuratively.
On the brand new cover of THR, Kerry stands tall in a pair of black & white slacks, a midriff baring black blouse, and black pumps for her usual fabulous look.
The other cover stars: Kate Mara of "House of Cards", Monica Potter of one of our fave shows "Parenthood", Connie Britton of our other fave "Nashville," Elisabeth Moss of "Mad Men," and Anna Gunn of "Breaking Bad".
Congrats to Kerry!  And stay tuned for the behind the scenes video from the shoot...