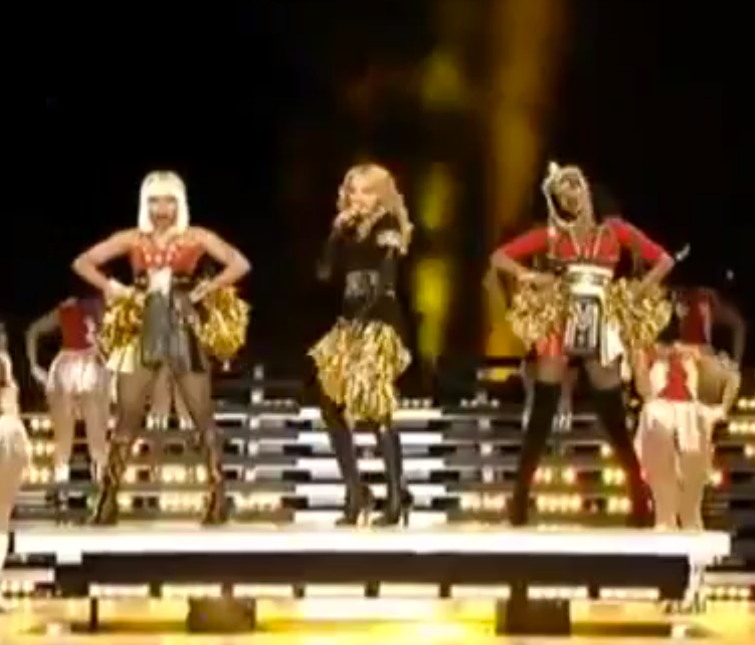 Now that the NY Giants have won Superbowl 2012, check out the halftime performance by Madonna and a bunch of her friends. In case you missed it, M.I.A. flipped off the camera, Cee-Lo had a bedazzled choir robe, and LMFAO shuffled with Madge.  Check it inside...
Madonna opened her 12+ minute halftime show (which I honestly thought had potential to be utterly fantastic thanks to the fabulous production, but Madge seemed a bit lackluster on the dance moves--maybe because she's 53 now) with her iconic hits and brought out tons of celeb friends.
With a warrior-like VOGUE entrance, followed by some "Sexy" with LMFAO, Madonna hit the stage at Lucas Oil Stadium tonight for the Superbowl halftime show. 
Nicki Minaj and M.I.A. (along with Southern University's Dancing Dolls) joined her on for their track "Give Me All Your Lovin'," and miss M.I.A. showed her bad girl side flipping off the camera.  But not before Madge almost took a tumble in those boots on those bleachers.  And Cee-Lo donned his shimmering choir robe for their "Like A Prayer" finale.
Check the vid.  You feeling the performance?