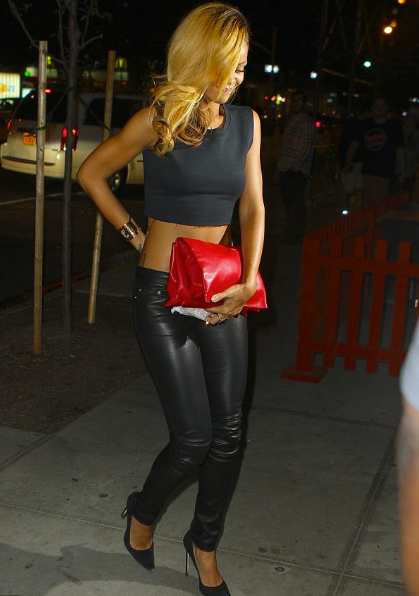 As her team handles a $5 million lawsuit against Topshop, Rihanna was seen struggling with her ultra-revealing pants during a peek-a-boo stroll through New York last night. Get the legal deets inside and watch footage from Nicki Minaj's TEEN VOGUE spread....
Rihanna was seen heading back to her hotel room in NYC last night.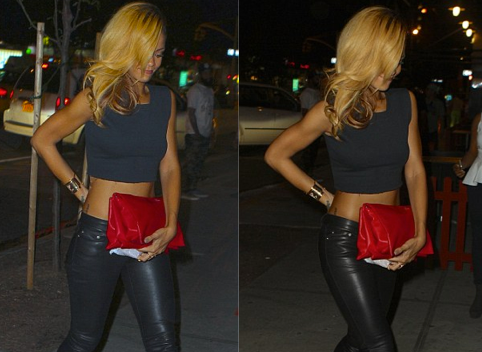 Wearing a tight pair of black leather trousers with a midriff baring top, Riri was forced to adjust and re-adjust her pants so photographers wouldn't get a shot of her goodies.
But bare booty views aren't the only struggles facing the pop starlet.  As her "Styled To Rock" show comes over to the States, her legal team is  embroiled in a nasty $5 Million lawsuit with Topshop. It seems the company is making a ton of money selling t-shirts with her image on them...without her permission.  
A source close to the situation says negotiations between the company and Rihanna started out friendly...but took a dive once they only offered her $5K.  Insulting! Her camp turned down the offer and Topshop ignored the rejection and sold the t-shirts anyway!  They essentially told her they would do whatever the hell the please.  Now...Riri wants them to pay up. The source told Page Six,
"Rihanna's management asked Topshop a number of times to stop selling her image and were told, 'We do what we want.' They buy the pictures from a photographer, but they do not pay the artist licensing fees. Unfortunately, UK law does not protect the artist.  What is most offensive for Rihanna is that they basically told her, 'Go to hell. We don't care; we are going to continue selling you.'
But fans of Rihanna shouldn't expect to get their hands on any of those shirts here in the States. The source added,
"Topshop is now in the United States. They set up in Manhattan and Nordstrom, but they know better than to do this in the US because they would get in trouble."
For their part, Topshop isn't admitting any wrongdoing.  In fact....they seem to pass the buck off on the supplier (though they did CHOOSE to sell the shirts). A rep said,
"This issue is related to a T-shirt provided to Topshop by a third-party supplier. We are aware it is the subject of litigation. [There are] public documents."
We bet chick gets her money.  We'll let you know how that turns out....
And on magazine stands.....
You've already seen her Teen Vogue cover, now they've released backstage footage and interview clips from Nicki Minaj's colorful June/July 2013 cover where she reveals the origins of her thick shell and touch girl attitude.  In the clip above, she describes her style as "Euphoric, girly and powerful."  Also, the rapstress talks about her "AI" experience, her most memorable audition and her fashion/music idol Cyndi Lauper.
Photos via SPLASH