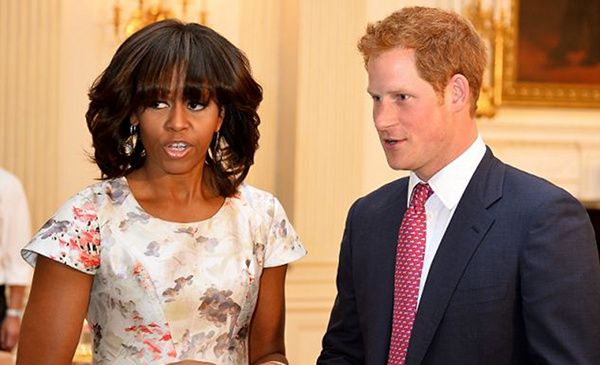 First Lady Michelle Obama was pretty in waterprints yesterday at the White House as she hosted women in the military, their children, their mothers and some military spouses at the annual Mother's Day Tea.  And all the ladies got an extra cute surprise--Prince Harry!
Pics inside from the tea...
Rocking a printed satin Prabal Gurung cocktail dress, our fabulous First Lady hosted women of service for the annual White House Mother's Day Tea.  And even though it's a repeat from her 2012 appearance on "Live! With Kelly & Michael", we're adoring the look once again:
And we're also adoring that ridiculously cute Prince Harry.  The British Royal popped up to surprise all the ladies at the tea as he's traveling around thanking military service people for their work. First Mom Michelle said inside the stateroom yesterday alongside Dr. Jill Biden:
"For the past few years, [Prince Harry] has focused on honoring the sacrifice and service of our veterans and military families, especially now that the war in Afghanistan is drawing to a close." 
The perfect look to kick off Mother's Day Weekend.  Loves it!